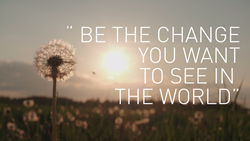 We are passionate about social issues such as the climate, race, gender, LGBTQ rights, education and workforce development. We will consider ourselves successful at The Change You Want To See when we know that we contributed to meaningful change on each one of these issues, and more."
LOS ANGELES (PRWEB) November 23, 2018
Abhi Sambari is an entrepreneur who is determined to show how successful business and doing good can and should go hand in hand. About a year ago, he founded his new media company, The Change You Want To See. This company produces micro-documentaries for nonprofits and facilitates donations from viewers, all at no cost to the organizations. Each micro-doc is funded through partnerships with brands that are dedicated to the cause the featured nonprofit is tackling. The Change You Want To See is the crucial link between these two entities, and uses the promotional video produced as a means to get the nonprofit's message out to the public and elicit donations from its followers. The Change You Want To See converts the funding from the partnering brands into crucial engagement and exposure for the nonprofits that allows them to continue their pursuit for positive change. In the last one year, they have created 14 micro-documentaries about nonprofits tackling issues such as climate change, education, access to technology, workforce development, homelessness, disabilities, immigration and animal welfare.
At its core, The Change You Want To See is on a mission to provide a platform for the heroic yet often unnoticed work being done in our communities. They achieve this through their engaging and shareable videos which help their featured organizations receive the funding they need to continue that work.
Abhi is a former software engineer turned entrepreneur, with the founding of his last video production company, Vercel, already under his belt. Spreading his beliefs of conscious capitalism and profits with a purpose is central to Abhi's mission for The Change You Want To See. His experience in film production at Vercel has prepared him for the engaging storytelling that is central to The Change You Want To See. Filmmaker Dillon Magrann-Wells is the Chief Creative Officer at The Change You Want To See, and also serves as the director, editor, and lead animator for the micro-documentaries. He has experience in music video production and his personal projects have been recognized by the Austin Film Festival.
One organization that has already partnered with The Change You Want To See is human-I-T, a nonprofit based in Long Beach, CA committed to eliminating e-waste and shrinking the digital divide in Los Angeles and beyond. human-I-T identified these two problems and took it upon themselves to be the solution. Their service provides a means for companies and individuals to dispose of their unwanted or broken technology, which they then either safely recycle, or refurbish to then be redistributed into lower income communities to people, students, and families who don't have the technology they need to succeed.
To help promote this amazing work being done by human-I-T, The Change You Want To See has produced a micro-documentary about their work in conjunction with running a donation campaign with them leading up to #GivingTuesday - an annual, socially-driven global movement to connect donors with charities happening on November 27, 2018. The campaign went live on November 20, 2018.
Abhi's vision is to make The Change You Want To See a ubiquitous platform that is branded around social change. "We are passionate about social issues such as the climate, race, gender, LGBTQ rights, education and workforce development", he says. "We will consider ourselves successful at The Change You Want To See when we know that we contributed to meaningful change on each one of these issues, and more."
To donate to human-I-T, click here --> http://bit.ly/2OUJ0si