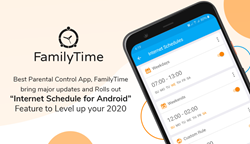 Parents can now restrict the internet access for their kids to gain quality family time.
LOS ANGELES (PRWEB) January 30, 2020
FamilyTime is going far and beyond to help parents take control over their kids in the digital age. In this recent update FamilyTime, Parental Control App launched Internet Schedule for Android, with user-friendly sign-up process and improve app performance.
So, what's in it for parents, let's have a brief overview.
Schedule Internet Usage According to Parents' Own Preference
The "Internet Scheduling" offers much of the awaited feature that parents were eyeing upon. Schedule time and days according to personnel set of rules. By selecting the appropriate days and time, parents can stop their kids from using the internet.
For instance, if parents are not available at home and they might feel that kids would use the internet to access adult websites, the Internet Scheduling feature comes to the rescue. Moreover, during homework time, bedtime and dinner time, they can schedule the right time from the app to stop their kids from using the internet.
Whether it be weekdays or weekends, parents can set their own internet schedule and never need to worry about their kids using the internet inappropriately.
At times, parents might need to customize the schedule according to their own set priority. No need to worry because the feature allows them to add an internet schedule according to their desired set of preferences. Select time and day to limit kids' internet usage and enjoy peace of mind, no matter where parents are located and whatever they are doing.
No More Sign Up Forms
In the recent updates, FamilyTime Android App has gone through major changes. Firstly, the sign-up process has gone a lot easier than ever before. With just a single click anyone can sign up using their Facebook or Google Account. The plan was devised by a team of developers and researchers to offer convenience to the parents.
No lengthy sign-up forms and no more waiting, just click the preferred button i.e. Facebook or Google and sign up easily without any hassle. Parents can log in instantly and fill the rest of the profile details afterward.
FamilyTime found popularity recently when a parent using the app managed to apprehend a sexual predator who was targeting their child. The app has always been ahead of the curve with regard to innovations in the parental control app space and continues to respond to parent's concerns with new features and updates.
FamilyTime is a parental control application for all Android smartphones and iPhones, iPads and iPod Touch devices. For more information, please visit their website or call +18667231238 for technical support.