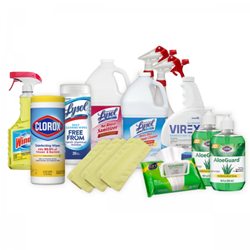 Smaller, national retailers are still supplying American homes and businesses.
BROOMFIELD, Colo. (PRWEB) April 21, 2020
Consumers are still facing shortages when purchasing toilet paper and cleaning supplies from big-box retailers such as Walmart and Amazon, but smaller national retailers such as TotalRestroom.com still have the stock you're looking for.

Large, national retailers continue to be sold out on many of the high-demand cleaning products, toilet paper, and paper towels that customers are looking for.
Cleaning products, like Clorox Wipes, are still available elsewhere.
Smaller national retailers are still supplying American homes and businesses.
Smaller, alternative retailers such as TotalRestroom.com offer easy-to-use websites that enable consumers to know quickly whether the cleaning products they need are in stock. TotalRestroom.com currently stocks thousands of cases of Toilet Paper, Paper Towels, Clorox Wipes, Lysol Disinfectants, and other cleaning supplies that usually ship within two business days.
TotalRestroom.com typically sells restroom and cleaning products to commercial customers. During the global Coronavirus outbreak, the company has expanded its offering to residential customers and smaller businesses too. The resulting orders have required the company's distribution facilities to add employees in order to meet customer demand.
About TotalRestroom.com:
TotalRestroom.com is based in Broomfield, CO and offers over 6,000 products in the building materials, restroom products, and cleaning supply marketplace shipped nationally from 50+ distribution centers and manufacturers.