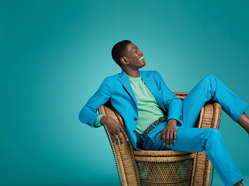 Paulette Garafalo, CEO of Paul Stuart says, "We are very excited about the contemporary direction our creative team has taken with this vibrant and modern collection. The ultra-lightweight materials, soft tailoring, and wide range of color fits our customers' relaxed lifestyles this season."
NEW YORK (PRWEB) March 15, 2021
Paul Stuart's new Spring 2021 collection is inspired by the bohemian rock and rollers, and English gentry who frequented the island of Mustique in the 1960s.
Creative Director Ralph Auriemma says, "I was inspired by the eccentric style of dressing by colorful characters who famously enjoyed themselves on Mustique in the 1960s. From rock stars to royalty, these gentlemen all understood the concept of personal style."
The Mustique collection features tailoring details that include double track welt stitching on the lapels that give them a sporty look. Auriemma says, "For the tailored section, everything is versatile with a lightweight feel. Jackets are paired with striped cotton pants that give it a casual elegance." Blazers feature a shirt style construction that was originally invented by Italian tailors to keep their clients comfortable during the warm summer months.
New fabrics include garment-dyed denim in bright colors that include pink, kelly green, and turquoise blue. Brightly colored cashmere blazers are pre-washed for a comfortable fit and vintage, military-style buttons add an eclectic touch. Linen drawstring trousers and banded collar shirts in bright colors are perfect for warmer temperatures. Italian garment-washed sport jackets with boat-shaped patch pockets are paired with rainbow colored chinos, boucle crew neck sweaters, and brightly colored linen shirts.
For the man looking for more tailored styles, the Modern American Sartorial collection features jackets in a lighter fabric weight for summer with tailoring constructions that offer a trim silhouette. Jackets feature updated lapels and new lengths but the styling direction this season says Creative Director Ralph Auriemma, "Has a very 'clean' look. In the past, there were typically more eclectic mixes of patterns and textures. This season it's very contemporary with minimal pattern mixing. At Paul Stuart, we are taking a forward-looking sartorial position and moving away from tailoring trends from the past."
Examples include raw silk and linen jackets that have both a soft hand with a rounder thread for texture. Tan, pre-washed silk twill sport jackets with Tencel for a soft touch. Classic basketweave hopsack fabric that is extremely lightweight, and pre-washed 100% cashmere sport jackets that have an extremely soft construction. These are shown with denim and cotton trousers.
Paulette Garafalo, CEO of Paul Stuart says, "We are very excited about the contemporary direction our creative team has taken with this vibrant and modern collection. The ultra-lightweight materials, soft tailoring, and wide range of color offer a broad range that fits our customers' relaxed lifestyles this season."
With these new constructions and fabrics, Paul Stuart, typically known for their "preppy" styles and color palette is making the move to a contemporary sensibility. Auriemma says, " We always have khaki chinos and blue blazers in stock at Paul Stuart. This is our opportunity to revisit the classic men's wardrobe and add another level of sophistication in color, material, and fit."
All of these styles are perfectly finished with Paul Stuart's Italian leather and suede sneakers, espadrilles, and sandals from the 2021 spring footwear collection.
About Paul Stuart:
Headquartered in New York City, Paul Stuart, Inc. was founded by Ralph Ostrove and named for his son Paul Stuart Ostrove, has remained in its original location since opening in 1938. The company designs exclusive collections of men's and women's tailored clothing, sportswear, and accessories. Additional stores are located in Southampton, NY, Chicago, and Washington, D.C.
For more information on Paul Stuart please contact:
Lisa Wells
917-613-7370
lisa.wells@paulstuart.com
http://www.paulstuart.com