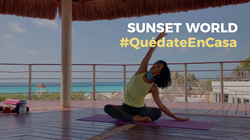 CANCÚN, Mexico (PRWEB) April 29, 2020
Since mid-March, and while preparing to welcome members and guests again soon, Sunset World Group is running its "Sunset World Awaits" campaign, which connects the group with members and guests online, reminding them that Cancun and the Riviera Maya are waiting with open arms and that Sunset World is their home away from home. "This too shall pass" is the motto of the campaign. Its intention is to strengthen the destination's image and ensure that members and guests will soon return to relax and enjoy this paradise.
Sunset World Group employees are using their talents and have uploaded several tutorials to their social media channels that invite members and guests to learn new things while they stay home. For example, the yoga instructor teaches routines to relieve lower back strain for those who are working from home. Housekeeping has shown them how to entertain themselves by making figures out of towels to decorate bathrooms or bedrooms.
Chefs share easy but delicious and very Mexican recipes, and mixologists have also contributed by showing how to prepare refreshing beach cocktails. For the little ones there have been printable activities they can work on at home individually or with the family. In addition, the Member Service Department has continued to work hard answering questions.
Photographs and videos of employees sending messages of solidarity, of the beaches that await members and guests and of the groups' hotels, have also been uploaded to social media, accumulating a large number of positive reactions and messages of solidarity, helping Sunset World to remain strong and hopeful in these difficult times.
"All Sunset World Group employees want to maintain contact with our members and guests by providing practical, useful activities that they can do during social distancing," said Annie Arroyo, Brand and Communication Corporate Director of the group. "Even if it is at a distance, we want them to experience the warmth and hospitality of Cancun and the Riviera Maya and everything Sunset World has always offered them," she concluded.
Sunset World Group is a family-owned Mexican company and a leader in the hospitality industry, offering authentic and unforgettable vacation experiences in Cancun and the Riviera Maya. It was founded more than 30 years ago and has grown to offer six resorts, world-class travel services, amenities and a diverse network of operational and marketing solutions that focus on providing the best vacation experiences for its Members and guests. From cultural excursions to water sports, the Members of Sunset World are never far from their next great adventure.