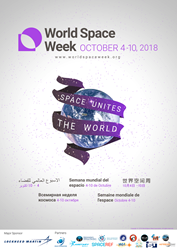 Every event about space, large or small, is welcomed.
WASHINGTON (PRWEB) October 04, 2018
Across America, coast-to-coast and North to South, and around the globe, October 4-10 every year sees people coming together to celebrate our shared experiences of outer space. Declared by the UN in 1999, World Space Week's annual celebration of space exploration, science, and technology is the largest public space event on the planet. With the 2018 theme "Space Unites The World," America's celebrations are being held in at least 44 states, D.C. and Puerto Rico, as well as connecting participants online. All who are interested in space - professionals, students, and hobbyists alike - are invited to join an event near you or create one. Every event about space, large or small, is welcomed.
World Space Week fosters international and interdisciplinary cooperation, informs people around the world about how space technology impacts our lives, encourages increasing use of space applications towards meeting the UN Sustainable Development Goals, shows the desire of the public for space programs, and inspires. By partnering with diverse hosts and organizations, from Space Foundation, Night Sky Network, and Space for Humanity to IMAX and National Geographic, connections across communities spark and multiply. Vivian White, of Astronomical Society of the Pacific, says about World Space Week, "It's comforting to know that no matter your resources, no matter your circumstances, we share the same sky. This week, all over the world, people are looking up in wonder. May it be a humbling reminder of our oneness, our common journey through the cosmos on this fragile slice of earth between sea and sky."
2018 World Space Week USA highlights include:

Chabot Space and Science Center in Oakland, CA debuts their new exhibit "Going the Distance: Our Reach Into Space". Media preview Oct 4th. Grand Opening Oct 6th.
Inaugurating the WSW participation of National Geographic with special preview screenings of MARS Season 2 around the country before the series launches on air Nov 12, 9/8c.
Space For Women and Ladies Do Launch hosting national panel series of women in the space industry in Washington D.C., Oakland, CA, Seattle, WA, and New York, NY. #WSWspacewomen
Night Sky Network members in dozens of states hold open gatherings for stargazing.
Netflix's 2018 Lost In Space showings for space-minded and curious middle schoolers.
Special online World Space Week gifts:

About World Space Week: World Space Week is an international celebration of science and technology, and their contribution to the betterment of the human condition. The United Nations General Assembly declared in 1999 that World Space Week will be held each year from October 4-10. World Space Week is coordinated by the United Nations with the support of the World Space Week Association (WSWA).