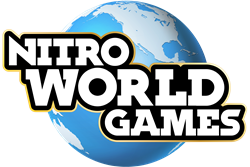 SALT LAKE CITY (PRWEB) September 21, 2018
Join cbdMD, Volkswagen, Subaru, the U.S. Air Force, and other proud sponsors this Saturday and Sunday at the Utah Motorsports Campus at the third annual Nitro World Games (NWG). The nation's premier action sports competition showcases global events in BMX, skate, scooter, and will feature two new disciplines this year: Nitro Rallycross (NRX) and FMX Quarterpipe.
This is the NWG's first year adding Rallycross to the lineup. cbdMD sponsors Steve Arpin of Loenbro and Hoonigan Racing who races alongside Ken Block – another racer competing in the event. The NRX track is the product of mastermind and extreme athlete Travis Pastrana, who will put his design to work as he competes against Steve and Ken for the inaugural title. With ingenuity and innovation at the forefront of design, "drivers will be able to push their vehicles and progress the sport," Pastrana stated.
The FMX Quarterpipe competition, also new to NWG, is a 32-foot-tall, 70-foot-wide mechanical ramp, nearly double the size of any other – offering FMX athletes a platform to reach new heights. The mechanical ramp will raise each round until there is only one rider – one champion – left. Jarryd McNeil, cbdMD sponsored athlete, will take on this challenge and one-of-a-kind ramp with five other riders.
Back by popular demand, for its third year, NWG presents one of its cornerstone events, FMX Best Trick. Seven of the sport's most fearlessness riders will compete to join NWG Hall of Fame, including Blake "Bilko" Williams, cbdMD sponsored athlete. The formatting will mimic past years – each athlete will get two attempts to execute the "best trick" of their choice. Who will take home this year's trophy?
Don't miss out on the stunts, flips, and jumps – see who is willing to push action sports to the next level of intensity. For tickets and more information, please visit: http://www.NitroWorldGames.com, or watch the action live on the Nitro World Games Facebook page: http://www.facebook.com/NitroWorldGames/
cbdMD offers a comprehensive line of 100% natural, hemp-derived CBD oil products, including tinctures, capsules, vape oils, bath bombs, topicals, and pet products. As a company committed to the highest standards for CBD sourcing, extraction, and production, cbdMD is for consumers seeking to experience the full benefits of CBD in a safe, convenient, and effective manner. For more information, please visit http://www.cbdMD.com.