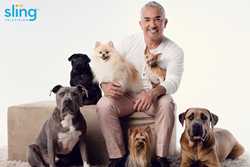 Paige's impetus for National Dog Day was her deep desire to save animals on a grander scale
LOS ANGELES (PRWEB) August 24, 2018
As another August 26th is on the horizon, Dogdom awaits with bated puppy breath, the day that saves countless lives of the previously unwanted and celebrates the magic of unconditional love.
National Dog Day 2018, will nearly explode the Internet and TV with photos and videos of adorable adoptables, many that sit, lonely and afraid in kennels, their hearts beating in desperate hope that their face will somehow cast a spell of love that cannot be broken and soon they'll be free from the bonds of abandonment and asleep in the loving arms of their new pet parent.
Sunday will highlight dogs showing their heroism, courageous dogs that fight crime, dogs that lead the blind and those that run with wheels attached or on only three legs. Dogs will be seen showing off their silliness in simple moments, their beauty paired with stunning geographical locations and expressing their enduring patience and emotional strength, while immersed in every heartfelt human experience imaginable. So many dogs await a loving home and because of National Dog Day, many will find just that, through social media sharing of photos, videos, news features and adoption events that often discount fees to celebrate and close-out the day with many less dogs in need.
Pet and Family Lifestyle Expert, Colleen Paige, founded National Dog Day in 2004, as a way to thank dogs for all they do and to help increase dog adoptions on a grander scale. "I'm constantly talking to people about pet adoption and trying to work out their lives for them to convince them that adopting a dog isn't as difficult as it might seem," she says. "To assuage any irritable feelings when it appears that I'm being too pushy about pet adoption, I try to use humor by saying…"think about it, if you don't get over to that shelter RIGHT NOW, someone else could be adopting YOUR DOG, the FURRY LOVE OF YOUR LIFE and the rest of your days will be completely ruined by some dog lover you've never even met!"
On a more serious note, Paige's impetus for National Dog Day was her deep desire to save animals on a grander scale than was being attempted in 2004. The idea came to her in the wake of September 11th, in response to the sheer lack of publicity and honor given to the dogs who gave so much of themselves to rescue and recover the victims of our country's greatest tragedy. "I was looking at this coffee table book published by a very well-known company, in memory of September 11th and there wasn't one single Search and Rescue dog or Police K9 featured," she said. "I learned that over 300 service dogs had been deployed at ground zero and not one of them had received any recognition for their heroic efforts. I knew I had to do something and in this very moment, the name popped into my mind and the rest is history. Now, I ask everyone that's capable, to consider adopting a dog and to donate at least $5 to their local animal shelter or rescue on August 26th."
National Dog Day has some new, as well as returning partners, such as Autotrader, that returns for a fifth year. "Leveraging its unmatched ability to help consumers shop all the cars and ultimately find their perfect match, Autotrader is demonstrating its full commitment to supporting dogs and their owners with the launch of Dogtrader.com," said Brian Moody, executive editor for Autotrader. "In partnership with Adopt-a-Pet.com, Dogtrader.com allows dog lovers to search for local pups in their area and help get homeless dogs out of shelters and into loving homes – the real mission at the heart of National Dog Day, which we are thrilled to be celebrating again this year. For 2018, Autotrader also named its 10 Great Cars for Dog Lovers and 6 Must-Have Car Accessories for Your Pet."
New this year, Sling TV and famed Dog Behaviorist Cesar Millan partner up for National Dog Day, to curate top shows dogs will love, based on extensive knowledge in dog psychology. The new collection features over 45 on-demand shows to enjoy with your dog on National Dog Day through August 28th. For more information, please visit Sling.com.
Part of the social media fun is the Annual National Dog Day Photo Contest where dog lovers from the U.S. can enter to win a gift box full of Dog Day gear and other goodies by posting and tagging photos on National Dog Day's Facebook page with the hashtag of the state they live in.
 
Pet Home Magazine, National Dog Day's official publication was founded by Colleen Paige in 2012 and has undergone some creative renovation, re-launching this winter. A free, quarterly, digital and print publication, Pet Home will feature both dogs and cats available for adoption from no-kill shelters and rescues around the country, as well as whole living and lifestyle features for pets and pet parents alike. Rescues are encouraged to contact the publication if they have a professional photographer that photographs their available pets. More information can be found at PetHomeMagazine.com.
The Holiday Guild (THG), which represents National Dog Day, specializes in strategic social media and digital marketing, crafting consumer and philanthropic campaigns for small businesses and international corporations alike. THG offers robust exposure through its longstanding worldwide trending social platforms and celebrity marketing. Visit TheHolidayGuild.com.