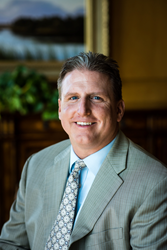 My vision is to combine innovative technology with exclusive products, the purchasing power of M Financial, and our sophisticated case design expertise to create superior solutions with preferential underwriting and legendary service. - Joel Stephens, President Life Insurance Division
TAMPA, Fla. (PRWEB) September 21, 2021
Thomas Financial, one of the nation's leading providers of insurance solutions and wealth management to affluent individuals and high-growth companies, is announcing the appointment of Joel Stephens as President of the Life Insurance division.
As President, Joel is responsible for client relations, product development, and revenue growth. His responsibilities include the mentoring and professional development of the division's Advisors, Case Designers, and Client Service team.
Joel joined Thomas Financial in 1994 as a Case Design Analyst, and in 1997 he was appointed an Advisor. In 2004, he earned a Chartered Life Underwriter (CLU) designation from the American College. Joel's areas of expertise include estate planning for high-net-worth individuals and families, business continuity, and executive benefits. Joel is a firm Principal and equity shareholder.
"I am excited to lead Thomas Financial and the division into the future," said Joel Stephens, Principal and President of the Life Insurance division. "My vision is to combine innovative technology with exclusive products, the purchasing power of M Financial, and our sophisticated case design expertise to create superior solutions with preferential underwriting and legendary service."
Joel is a Qualifying, Life and Honor Roll member of the Million Dollar Round Table (MDRT) Top of the Table. He is the past President of the Tampa Bay Estate Planning Council and an active member in many professional industry associations, including the Tampa Bay Estate Planning Council, National Association of Estate Planners and Councils (NAEPC), and Finseca.
"Joel has been an integral part of the Thomas Financial team for almost 30 years," said Lauren Thomas Compton, CEO & President of Thomas Financial. "He is truly dedicated to the financial success of our clients and their businesses. He is also a tremendous leader both in our firm and in the community. I couldn't be happier to have him as a business partner."
Joel is actively involved in the community and currently serves on the Board of Directors and Governance Committee for the Hillsborough Education Foundation. He is the Chairman Emeritus of the Planned Giving Committee. He is also Chairman Emeritus of the Board for The Tampa Connection and was the organization's Citizen of the Year in 2016.
Joel is a graduate of Florida Institute of Technology and is a member of Florida Tech's Galaxy (Hercules) and Ad Astra Societies. He has also served on the Florida Tech Alumni and Athletic Boards.
###
About Thomas Financial
Thomas Financial specializes in life insurance, wealth transfer, business continuation, retirement planning, executive benefits, and health insurance to meet the needs of the affluent and corporate markets. Thomas Financial has consistently performed at the top of its field for nearly 50 years by combining deep expertise, product innovation, collective strength, and legendary service. http://www.thomasfinancial.com