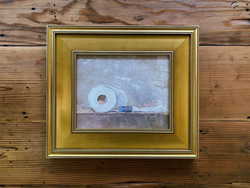 The pandemic has been an exceptionally stressful time for many families", says Winsor Kinkade, "and we know art has proven to be therapeutic and helps children, adolescents, and adults explore their emotions, improves their self-esteem, relieves stress and improves symptoms of anxiety and depression
SAN JOSE, Calif. (PRWEB) December 16, 2020
The Kinkade Family Foundation has released prints based on never-before-seen artwork by American painter Thomas Kinkade. Known worldwide as ​the Painter of Light™, Kinkade is one of​ America's most recognized artists whose artwork was at one time found in 1 out of 20 households in the U.S.​
The rediscovered piece, Untitled (Toilet Paper), was locked away from public view for decades and stored in Kinkade's hidden vault. The original, which was painted circa 1978, represents one of the most valuable and sought-after items during the 2020 Pandemic.
100 limited edition canvas prints and open edition prints are available on The Kinkade Family Foundation website. After his passing in 2012, Kinkade's wife, Nanette, and their four daughters, Merritt, Chandler, Winsor and Everett, founded the Foundation to honor his memory in the ways he would most appreciate, by touching lives with his art and helping people in need.
This year, the Kinkade women are donating 100% of the proceeds of this print and all items on their ecommerce store to provide art kits to underserved communities who have been disproportionately affected by COVID-19 and its effects.
"The pandemic has been an exceptionally stressful time for many families", says Winsor Kinkade, "and we know art has proven to be therapeutic and helps children, adolescents, and adults explore their emotions, improves their self-esteem, relieves stress and improves symptoms of anxiety and depression. What better time to release this print."
Shop and see more information about the foundation at kinkadefamilyfoundation.org