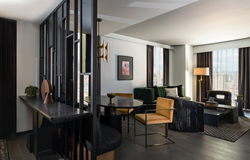 AUSTIN, Texas (PRWEB) March 16, 2021
Thompson Austin is pleased to announce the planned summer 2021 opening of one of Hyatt's newest lifestyle hotels in a new mixed-use development from Magellan Development Group, Geolo Capital and Wanxiang America Real Estate Group. Situated in the heart of downtown Austin's vibrant music and entertainment district, the highly anticipated Thompson Austin will bring new, elevated hospitality to Texas' capital city with thoughtfully designed guestrooms, suites, and residences; several distinct food and beverage concepts led by culinary partners Mashama Bailey and Johno Morisano; a spacious open-air pool deck; expansive gym; and several indoor-outdoor meeting spaces—all providing sophisticated gathering places for the local community and visitors alike.
A modern hub with refined accommodations, dining, entertainment, and special events with intuitive service and individually tailored experiences, Thompson Austin will feature 212 guestrooms and suites, 17 residences, and more than 6,000 square feet of meeting and event space. Situated on the 16th floor, the Residences at Thompson Austin will provide a spacious addition to the hotel's illustrious accommodations, ranging in size from studios to two bedrooms and offering dramatic city views, full kitchens, and access to all hotel amenities. With a thoughtful design that celebrates Austin's rebellious spirit, the hotel's sophisticated interiors by Simeone Deary Design Group will feature statement concrete walls, and bespoke elements including a uniquely designed front desk inspired by raw cut gemstones and a specialty shou sugi ban wood ceiling finish - both nods to the local landscape. By contrast, bold finishes of mixed metals, hints of soft leathers and luscious greenery will create the warmth in the space.
Culinary enthusiasts will savor a variety of unique experiences on property. Anchoring the hotel on the ground floor will be The Diner Bar and The Grey Market, a street-side, all-day dining concept serving fresh, daily fare and grab-and-go options led by culinary partners Mashama Bailey and Johno Morisano, with interiors by Parts and Labor Design. Serving as a social hub for guests of Thompson Austin, residents and the local community, a fourth-floor entertainment deck will include a signature restaurant and bar with alfresco poolside terrace dining, and billiards/game room under the direction of Chicago-based Land and Sea Dept.; a 10,000-square-foot wellness center, including a yoga studio and private fitness rooms; a pool deck surrounded by lush greenery; and private event spaces offering more than 12,000 square feet of interior space and over 13,000 square feet of exterior space.
"Thompson Austin is poised to become the city's newest cultural hub boasting exceptional service, an elevated social scene and highly desirable food and beverage offerings for visitors and locals alike," said Nate Hardesty, managing director of Thompson Austin. "From our collaboration with the team behind Savannah's critically acclaimed The Grey to our fourth-floor playground of food and beverage, wellness and more, we are creating a vibrant gathering place, with the intention of serving the local community as well as global travelers. Austin is such a fun, funky, unique city and is one of the most beloved travel destinations while being home to so many amazing people and businesses. We are beyond excited to open the doors to Thompson Austin this summer."
Located on 5th and San Jacinto, approximately 15 minutes from Austin Bergstrom International Airport, Thompson Austin will be perfectly situated to provide guests easy access to all of the eclectic neighborhoods that make Austin so charming.
Thompson Austin is among several other Thompson Hotels properties that are newly opened including Thompson Dallas and Thompson San Antonio in Texas or soon-to-open like Thompson Savannah, Thompson Buckhead, Thompson Hollywood and Thompson Denver, which are all slated to open throughout 2021.
Guided by its purpose of care, Hyatt's multi-layered Global Care & Cleanliness Commitment further enhances its operational guidance and resources around colleague and guest safety and peace of mind. More information on Hyatt's commitment can be found here: hyatt.com/care-and-cleanliness.
Nightly rates at Thompson Austin are expected to start at $329. For more information about Thompson Austin or to make a reservation, please visit thompsonhotels.com/hotels/texas/austin/thompson-austin.
The term "Hyatt" is used in this release for convenience to refer to Hyatt Hotels Corporation and/or one or more of its affiliates.
About Thompson Austin
Slated to open in Summer 2021, Thompson Austin will be located in the heart of downtown Austin's vibrant music and entertainment district and is a sophisticated destination for locals and visitors alike. Celebrating Austin's rebel spirit and Hill Country heritage with edgy design, the sophisticated hotel will offer 212 guestrooms and suites, as well as 17 residences. Poised to become the capital city's premier urban playground, the hotel will feature a signature all day dining restaurant and bar concept including alfresco poolside terrace dining, billiards room and more; infinity pool and wellness center; over 30,000 square feet of indoor and outdoor event space; as well as a street-level culinary experience led by partners Mashama Bailey and Johno Morisano, The Diner Bar and The Grey Market. For more information, please follow @thompson_atx and http://www.facebook.com/thompsonaustinhotel or visit thompsonhotels.com/hotels/texas/austin/thompson-austin.
About Thompson Hotels
Founded in 2001, Thompson Hotels is an award-winning boutique lifestyle hospitality brand with a collection of stunning, dynamic properties. Each Thompson Hotels urban and resort location offers a carefully layered environment that molds into its surrounding community. Guests are provided tailored stays with connections to world-class culinary offerings, arts and entertainment, and groundbreaking design. The Thompson portfolio of lifestyle hotels includes The Beekman and Gild Hall in New York City; Thompson Washington D.C.; Thompson Nashville; Thompson Seattle; Thompson Chicago; The Cape in Los Cabos, Mexico and Thompson Playa del Carmen in Riviera Maya, Mexico; Thompson Zihuatanejo on Mexico's Pacific Coast; and the new Texas hotels, Thompson Dallas and Thompson San Antonio. ¬Hotels currently under development include Texas properties in Austin and Houston, as well as Thompson Denver, Thompson Buckhead and Thompson Savannah. Follow @ThompsonHotels on Facebook, Twitter, and Instagram for news and updates. For more information, please visit http://www.thompsonhotels.com/hotels/texas/austin/thompson-austin.
Forward-Looking Statements
Forward-Looking Statements in this press release, which are not historical facts, are forward-looking statements within the meaning of the Private Securities Litigation Reform Act of 1995. Our actual results, performance or achievements may differ materially from those expressed or implied by these forward-looking statements. In some cases, you can identify forward-looking statements by the use of words such as "may," "could," "expect," "intend," "plan," "seek," "anticipate," "believe," "estimate," "predict," "potential," "continue," "likely," "will," "would" and variations of these terms and similar expressions, or the negative of these terms or similar expressions. Such forward-looking statements are necessarily based upon estimates and assumptions that, while considered reasonable by us and our management, are inherently uncertain. Factors that may cause actual results to differ materially from current expectations include, but are not limited to, the duration of the COVID-19 pandemic and its short and longer-term effects, including the demand for travel, transient and group business, and levels of consumer confidence, and the pace of recovery following the pandemic, any additional resurgence, or COVID-19 variants; the impact of the COVID-19 pandemic, any additional resurgence, or COVID-19 variants, and the impact of actions that governments, businesses, and individuals take in response, on global and regional economies, travel limitations or bans, and economic activity, including the duration and magnitude of its impact on unemployment rates and consumer discretionary spending; the ability of third-party owners, franchisees, or hospitality venture partners to successfully navigate the impacts of the COVID-19 pandemic, any additional resurgence, or COVID-19 variants; general economic uncertainty in key global markets and a worsening of global economic conditions or low levels of economic growth; the rate and the pace of economic recovery following economic downturns; levels of spending in business and leisure segments as well as consumer confidence; declines in occupancy and average daily rate; limited visibility with respect to future bookings; loss of key personnel; domestic and international political and geo-political conditions, including political or civil unrest or changes in trade policy; hostilities, or fear of hostilities, including future terrorist attacks, that affect travel; travel-related accidents; natural or man-made disasters such as earthquakes, tsunamis, tornadoes, hurricanes, floods, wildfires, oil spills, nuclear incidents, and global outbreaks of pandemics or contagious diseases, such as the COVID-19 pandemic, or fear of such outbreaks; our ability to successfully achieve certain levels of operating profits at hotels that have performance tests or guarantees in favor of our third-party owners; the impact of hotel renovations and redevelopments; risks associated with our capital allocation plans, share repurchase program, and dividend payments, including a reduction in, or elimination or suspension of, repurchase activity or dividend payments; the seasonal and cyclical nature of the real estate and hospitality businesses; changes in distribution arrangements, such as through internet travel intermediaries; changes in the tastes and preferences of our customers; relationships with colleagues and labor unions and changes in labor laws; the financial condition of, and our relationships with, third-party property owners, franchisees, and hospitality venture partners; the possible inability of third-party owners, franchisees, or development partners to access capital necessary to fund current operations or implement our plans for growth; risks associated with potential acquisitions and dispositions and the introduction of new brand concepts; the timing of acquisitions and dispositions, and our ability to successfully integrate completed acquisitions with existing operations; failure to successfully complete proposed transactions (including the failure to satisfy closing conditions or obtain required approvals); our ability to successfully execute on our strategy to expand our management and franchising business while at the same time reducing our real estate asset base within targeted timeframes and at expected values; declines in the value of our real estate assets; unforeseen terminations of our management or franchise agreements; changes in federal, state, local, or foreign tax law; increases in interest rates and operating costs; foreign exchange rate fluctuations or currency restructurings; lack of acceptance of new brands or innovation; general volatility of the capital markets and our ability to access such markets; changes in the competitive environment in our industry, including as a result of the COVID-19 pandemic, industry consolidation, and the markets where we operate; our ability to successfully grow the World of Hyatt loyalty program; cyber incidents and information technology failures; outcomes of legal or administrative proceedings; violations of regulations or laws related to our franchising business; and other risks discussed in the Company's filings with the U.S. Securities and Exchange Commission ("SEC"), including our annual report on Form 10-K and our Quarterly Reports on Form 10-Q, which filings are available from the SEC. These factors are not necessarily all of the important factors that could cause our actual results, performance or achievements to differ materially from those expressed in or implied by any of our forward-looking statements. We caution you not to place undue reliance on any forward-looking statements, which are made only as of the date of this press release. We undertake no obligation to update publicly any of these forward-looking statements to reflect actual results, new information or future events, changes in assumptions or changes in other factors affecting forward-looking statements, except to the extent required by applicable law. If we update one or more forward-looking statements, no inference should be drawn that we will make additional updates with respect to those or other forward-looking statements.