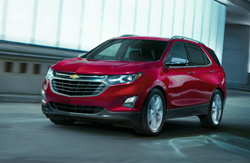 PATTERSON, Calif. (PRWEB) October 26, 2018
Purchasing a new vehicle can be a very stressful and costly process for customers. The staff at Thompson Chevrolet in Patterson understands this situation that many car buyers find themselves in. To alleviate some of the stress customers are experiencing, Thompson Chevrolet offers special sales on select vehicles every month. For the month of October, Thompson Chevrolet is discounting select vehicles by as much as $8,000.
There are currently six new Chevrolet, GMC and Buick models available at discounted pricing for the month of October. Customers can save between $5,000 and $8,000 on these select 2018 and 2019 models. The new deals of the month for October feature a 2018 Buick Encore Preferred, a 2019 Chevrolet Equinox LT, a 2018 Chevrolet Trax LS, a 2018 GMC Acadia Denali, a 2018 GMC Terrain SLT and a 2018 GMC Yukon Denali.
Customers can purchase the Chevy Trax for $15,995 and the Buick Encore for $20,035, saving $6,000 and $7,000 respectively. The Chevy Equinox and GMC Terrain can be purchased for $24,335 and $30,803. This represents a saving of $6,000 and $5,867 for these two vehicles. The more expensive vehicles that are part of the monthly sales are the GMC Acadia Denali and the GMC Yukon Denali. The Acadia is discounted by $5,000 to $48,480, while the Yukon is discounted $8,000 to $69,390. Customers can check back in November to see what vehicles will be available at reduced pricing next month.
Customers who are interested in learning more about the October new vehicle sales offered by Thompson Chevrolet can contact the dealership for more information. The dealership can be reached by phone at 866-666-4305 or online at thompsonchevrolet.com. Thompson Chevrolet is located at 701 S. Second Street in Patterson.