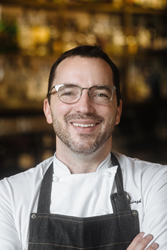 SAN ANTONIO, Texas (PRWEB) January 06, 2021
Thompson San Antonio today announced plans for a dynamic collection of restaurant and bar concepts scheduled to be introduced in early 2021. Four dining and nightlife concepts will be anchored by Landrace, a new restaurant on the River Walk, led by James Beard Award finalist Chef Steve McHugh. Floating high above will be The Moon's Daughters, an enchanting indoor-outdoor rooftop restaurant and bar set to dazzle from its 20th-story perch over the city. Stylish lobby and pool bars will round out the dining and beverage venues that will bring bold new energy to the River City.
"We are excited to bring creative, new and tailored dining experiences to San Antonio with the opening of Landrace and The Moon's Daughters scheduled for early 2021," said Ted Knighton, general manager of Thompson San Antonio. "It is an honor to work with one of San Antonio's most celebrated chefs on his newest masterpiece, which will pay tribute to the ingredients and farmers of our region. The Moon's Daughters will also offer a magical experience in a must-see rooftop setting, unlike any other in our city."
Landrace – A Signature Restaurant
Landrace promises to be a landmark restaurant many years in the making. Located on the ground floor of Thompson San Antonio with direct access to the River Walk, the 200-seat restaurant will offer a distinctly independent mood from the rest of the hotel – one with a light color palette, soaring ceilings, and walls of floor-to-ceiling windows offering views of the River Walk.
Executive Chef Steve McHugh, who gained national acclaim and local adoration for his seminal Cured at Pearl restaurant, has been charged with leading culinary operations, dreaming up dishes to satisfy wildly diverse palates. The menu will celebrate regional ingredients and heritage growers close to home, expanding beyond the exclusively cured dishes of Cured at Pearl.
The setting will evoke warm mid-century modernism with upholstered banquettes and chairs and custom-designed patterned screens in rose gold. A showstopping bar and a semi-open kitchen that showcases a beautiful Grillworks wood-fired grill will also contribute to the inviting ambiance. Beyond the main dining room, Landrace will offer two expansive private dining rooms, one of which features views of the River Walk.
"Landrace is a dream realized for me as I have been envisioning and working on the concept for some time," said McHugh. "The menu will showcase my fascination with local ingredients and the unique products grown in Texas as we celebrate the natural flavors and nuances of the seasons in collaboration with Texas' heritage farmers and growers."
A sampling of regional providers is slated to include: quail and quail eggs from Broken Arrow Ranch, black garlic from Texas Black Gold Garlic, heirloom Bloody Butcher corn and Kalvash beans from Barton Springs Mill, plus sprouts, edible flowers and habaneros from Wholesome Harvest Farm, and cabrito from Windy Hill Farms. In addition, hog breeds including one of McHugh's favorites, the Red Wattle, is expected to come from Peaceful Pork, which is helmed by a sixth-generation Texan located just two hours south of San Antonio.
Much of the culinary action at Landrace will revolve around the Grillworks wood-fired grill, where dishes such Grilled BBQ Oysters with charred lemon, Canoe Cut Bone Marrow and Lamb Sirloin with papalo chimichurri may be prepared. Even an ember-baked brie dessert could be prepared on the coals. The beverage program will reflect the quality and intention of the dishes, with Old Fashioneds made to order at a tableside cocktail cart.
Sample dishes from the Landrace dinner menu tentatively include:
Starters & Salads

Bloody Butcher Corn Hushpuppies – with Chili Lime Popcorn, Persimmon Pepper Jelly
Wagyu Beef Tartare – with Smoked Crème Fraiche, Quail Egg Toad in a Hole, American Caviar
Mains from the Kitchen

Garganelli Pasta – with Gulf Blue Crab, Pumpkin, Black Garlic, Parmesan, Tarragon
Oven Roasted Delicata Squash – with Pomegranates, Rye Berry Pilaf
Mains from the Coals

Bershire Pork Chop – with Peychaud-Pear Butter
Half Charred Chicken – with Achiote, Fermented Hot Sauce
The Moon's Daughters – A Rooftop Restaurant and Bar
The Moon's Daughters will bring soaring al fresco style to the River Walk for a rooftop experience unlike anything else in San Antonio. Inspired by the Greek goddess of the moon, the 300-seat restaurant and bar will captivate from its 20th-story perch with indoor-outdoor seating, twinkling city lights and all the magic of starry San Antonio nights. Here, some of the city's best live music also is planned to elevate the mood.
A Mediterranean-inspired menu from Executive Chef Robert Cantu will be equally playful, with flavorful dishes evocative of a sun-soaked holiday along the Aegean Sea. A native of San Antonio, Chef Cantu trained under the acclaimed Chef Dean Fearing at the Rosewood Mansion on Turtle Creek in Dallas before going on to assume sous chef and executive chef roles throughout Texas and the Midwest.
A compelling selection of small plates are set to feature ingredients including charred and preserved lemon, local honey, roasted pistachios, local eggplant, fried mint and Marcona almonds. Entrées planned encompass meat and fish dishes as well as vegetarian Stuffed Leek Kebobs. Side dishes may range from roasted local squash and mushrooms to labneh, artichoke hummus and marinated olives.
Sample dishes from The Moon's Daughters menu tentatively include:

House Made Feta Burrata – with Rooftop Pesto, Local Honey, Speck, Marconas
Blowfish Tails – with Charred Lemon, Harissa Aioli, Basil, Dehydrated Olives
Lamb Ragu – with Hummus, Charred Shabazi Onions, Fried Mint, Pita
Toro Tartare – with Eggs, Caviar, Marinated Cucumber, Ciabatta Chips
Stuffed Leek Kebobs – with Local Squash, Tomato, Cashew Cheese
Seared Black Bass – with Artichoke Puree, Local Squash, Tomato Butter, Basil Oil
The Moon's Daughters is slated to be open for Happy Hour, Dinner and Late-Night dining.
Lobby and Pool Bars
Thompson San Antonio will offer two additional venues for original drinks and dining. A lobby bar will be open to the public and an outdoor bar on the fourth floor pool deck will be exclusively for hotel guests and residents of The Arts Residences at Thompson San Antonio.
Guided by its purpose of care, Hyatt's multi-layered Global Care & Cleanliness Commitment further enhances its operational guidance and resources around colleague and guest safety and peace of mind. More information on Hyatt's commitment can be found here: hyatt.com/care-and-cleanliness.
For more information about Thompson San Antonio, please call 210.876.1234 or visit http://www.thompsonsanantoniohotel.com.
The term "Hyatt" is used in the release for convenience to refer to Hyatt Hotels Corporation and/or one or more of its affiliates.
About Thompson San Antonio
The 162-room Thompson San Antonio is located in a new luxury, mixed-use development on the banks of the San Antonio River in the heart of the city's vibrant River Walk. Featuring 33 suites with soaking tubs, wet bars and views of Texas Hill Country, the hotel has plans to offer a penthouse with pool table – the ultimate entertainment suite. Public spaces will include a full-service spa, a pool-deck bar with cabanas, and a rooftop bar with panoramic views of downtown. More than 5,000 square feet of light-filled event space will be anchored by a 4,000-square-foot ballroom. Oversized guest rooms will provide stylish sanctuaries in the heart of San Antonio, while a restaurant from a celebrated local chef will also draw guests and locals alike.
Situated in the vibrant Arts District, steps from the Tobin Center for the Performing Arts and within walking distance to The Alamo, Thompson San Antonio will bring something unique to the city – a visionary new destination that honors the rich culture and legacy of San Antonio while offering a fresh and contemporary experience rooted in the timeless now. The Thompson San Antonio and The Arts Residences development are being led by Houston-based developer DC Partners and San Antonio's Universal Services Group. Powers Brown Architecture, a Houston-based firm, is the architect for the property, working in collaboration with Guadalajara-based interior design firm Amass & G, whose credits include Thompson Hotels' award-winning The Cape resort in Cabo San Lucas.
About Thompson Hotels
Founded in 2001, Thompson Hotels is an award-winning boutique lifestyle hospitality brand with a collection of stunning, dynamic properties. Each of Thompson Hotels' urban and resort locations offers a carefully layered environment that molds into its surrounding community. Guests are provided tailored stays with connections to world-class culinary offerings, arts and entertainment, and groundbreaking design. The Thompson portfolio of lifestyle hotels includes The Beekman and Gild Hall in New York City; Thompson Nashville; Thompson Seattle; Thompson Chicago; The Cape in Los Cabos, Mexico; Thompson Playa del Carmen in Riviera Maya, Mexico; Thompson Zihuatanejo on Mexico's Pacific Coast; Thompson Washington D.C. in the Navy Yard neighborhood; and its newest property, Thompson Dallas, scheduled to open November 11, 2020. Hotels currently under development include Texas properties in San Antonio, Austin and Houston, as well as Thompson Hollywood, Thompson Denver, Thompson Buckhead and Thompson Savannah. Follow @ThompsonHotels on Facebook, Twitter, and Instagram for news and updates. For more information, please visit http://www.thompsonhotels.com.
Forward-Looking Statements
Forward-Looking Statements in this press release, which are not historical facts, are forward-looking statements within the meaning of the Private Securities Litigation Reform Act of 1995. Our actual results, performance or achievements may differ materially from those expressed or implied by these forward-looking statements. In some cases, you can identify forward-looking statements by the use of words such as "may," "could," "expect," "intend," "plan," "seek," "anticipate," "believe," "estimate," "predict," "potential," "continue," "likely," "will," "would" and variations of these terms and similar expressions, or the negative of these terms or similar expressions. Such forward-looking statements are necessarily based upon estimates and assumptions that, while considered reasonable by us and our management, are inherently uncertain. Factors that may cause actual results to differ materially from current expectations include, but are not limited to, the short- and longer-term effects of the COVID-19 pandemic, including on the demand for travel, transient and group business, and levels of consumer confidence; actions that governments, businesses, and individuals take in response to the COVID-19 pandemic or any resurgence, including limiting or banning travel; the impact of the COVID-19 pandemic, and actions taken in response to the COVID-19 pandemic or any resurgence, on global and regional economies, travel, and economic activity, including the duration and magnitude of its impact on unemployment rates and consumer discretionary spending; the ability of third-party owners, franchisees or hospitality venture partners to successfully navigate the impacts of the COVID-19 pandemic; the duration of the COVID-19 pandemic and the pace of recovery following the pandemic or any resurgence; general economic uncertainty in key global markets and a worsening of global economic conditions or low levels of economic growth; the rate and the pace of economic recovery following economic downturns; levels of spending in business and leisure segments as well as consumer confidence; declines in occupancy and average daily rate; limited visibility with respect to future bookings; loss of key personnel; domestic and international political and geo-political conditions, including political or civil unrest or changes in trade policy; hostilities, or fear of hostilities, including future terrorist attacks, that affect travel; travel-related accidents; natural or man-made disasters such as earthquakes, tsunamis, tornadoes, hurricanes, floods, wildfires, oil spills, nuclear incidents, and global outbreaks of pandemics or contagious diseases or fear of such outbreaks, such as the COVID-19 pandemic; our ability to successfully achieve certain levels of operating profits at hotels that have performance tests or guarantees in favor of our third-party owners; the impact of hotel renovations and redevelopments; risks associated with our capital allocation plans and common stock repurchase program and quarterly dividend, including a reduction in or elimination of repurchase activity or dividend payments; the seasonal and cyclical nature of the real estate and hospitality businesses; changes in distribution arrangements, such as through internet travel intermediaries; changes in the tastes and preferences of our customers; relationships with colleagues and labor unions and changes in labor laws; the financial condition of, and our relationships with, third-party property owners, franchisees, and hospitality venture partners; the possible inability of third-party owners, franchisees, or development partners to access capital necessary to fund current operations or implement our plans for growth; risks associated with potential acquisitions and dispositions and the introduction of new brand concepts; the timing of acquisitions and dispositions, and our ability to successfully integrate completed acquisitions with existing operations; failure to successfully complete proposed transactions (including the failure to satisfy closing conditions or obtain required approvals); our ability to successfully execute on our strategy to expand our management and franchising business while at the same time reducing our real estate asset base within targeted timeframes and at expected values; declines in the value of our real estate assets; unforeseen terminations of our management or franchise agreements; changes in federal, state, local, or foreign tax law; increases in interest rates and operating costs; foreign exchange rate fluctuations or currency restructurings; lack of acceptance of new brands or innovation; general volatility of the capital markets and our ability to access such markets; changes in the competitive environment in our industry, including as a result of industry consolidation, and the markets where we operate; our ability to successfully grow the World of Hyatt loyalty program; cyber incidents and information technology failures; outcomes of legal or administrative proceedings; violations of regulations or laws related to our franchising business; and other risks discussed in the Company's filings with the U.S. Securities and Exchange Commission ("SEC"), including our annual report on Form 10-K and our Quarterly Report on Form 10-Q filed on May 7, 2020, which filings are available from the SEC. These factors are not necessarily all of the important factors that could cause our actual results, performance or achievements to differ materially from those expressed in or implied by any of our forward-looking statements. We caution you not to place undue reliance on any forward-looking statements, which are made only as of the date of this press release. We undertake no obligation to update publicly any of these forward-looking statements to reflect actual results, new information or future events, changes in assumptions or changes in other factors affecting forward-looking statements, except to the extent required by applicable law. If we update one or more forward-looking statements, no inference should be drawn that we will make additional updates with respect to those or other forward-looking statements.
Media Contact
Murphy O'Brien, Inc.
thompsonsanantonio@murphyobrien.com