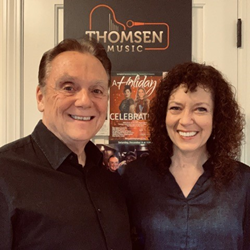 LONGMEADOW, Mass. (PRWEB) December 04, 2018
Thomsen Music's Peter and Abby Thomsen have helped scores of aspiring artists to realize their full potential. You may recall one of their most recent clients, Brynn Cartell. Brynn was the winner of last season's NBC vocal competition "The Voice".
The Springfield Symphony Orchestra welcomes Brynn Cartelli home for "A Holiday Celebration" at Symphony Hall on Saturday, December 8th, at 7:30pm. Brynn will perform her rendition of "I'll Be Home for Christmas" accompanied by her former piano teacher, Abby Thomsen. She'll also debut a new original song and will be joined by her longtime friend and voice teacher, Peter Thomsen, on drums. Cartelli's performance will conclude with the seasonal favorite "Have Yourself a Merry Little Christmas" where she'll be backed by the full Springfield Symphony Orchestra.
"A Holiday Celebration" is uplifting entertainment for all ages. Advanced seating is recommended, as local appearances will be less frequent once Brynn joins Kelly Clarkson's "Meaning Of Life Tour" in 2019.
Peter and Abby Thomsen have established themselves as premier providers of personalized musical instruction. Peter credits Thomsen Music's continued growth and success to the company's early adoption of interactive video conferencing. "We started by offering video conferencing sessions to our existing students who had either gone off to college or moved away" explains Thomsen, "Because this training model works so efficiently, we're now able to provide individualized musical training worldwide, while continuing to serve our local clientele."
Many of Thomsen Music's voice and piano students will also be performing at the Boys & Girls Clubs of Springfield's "Festival of Trees" benefit at the MassMutual Center, on Friday, December 7th, from 3:30pm - 6:00pm.
Peter and Abby Thomsen observe daily the limitless creative possibilities that music education offers each of their students. This is why they take sincere joy in pursuing Thomsen Music's mission of "life long music making".
Thomsen Music: Voice & Piano Instruction
thomsenmusic.com / Longmeadow, MA
Coaching - Teaching - Mentoring - Performance