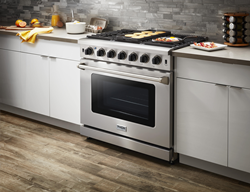 LOS ANGELES (PRWEB) June 17, 2021
THOR Kitchen has announced a partnership with OnPoint Warranty Solutions, a leading provider of warranty services, including underwriting, service contract and extended warranty programs, logistics and service management technology. Through the new partnership, THOR Kitchen more than doubles its network of service providers to offer customers quicker, improved in-home service in their local market.
"OnPoint's dedication to the customer experience matches our own, and we believe this partnership is a great step forward for the THOR brand to offer our customers next-level service," said Kyle You, THOR Kitchen Managing Director.
TWEET THIS: The new partnership between @THORKitchen and @OnpointWarranty will more than doubles THOR's network of service providers across the country and offers customers quicker, improved in-home service in their local market. http://bit.ly/THOR-OnPoint
The partnership expands THOR's reach across the country to offer customers a better total service experience. In addition, THOR's service providers will receive enhanced training and communication through OnPoint's onboarding system. Service providers can manage all aspects of their transaction with a customer through OnPoint, which increases efficiency and maximizes revenue.
"We are excited to enhance the THOR Kitchen consumers' warranty experience," said Chris Smith, CEO of OnPoint Warranty. "Our focus is on delivering exceptional consumer warranty service. We have invested heavily in our Insurtech platform and in our service network to achieve that end. We look forward to THOR Kitchen joining the OnPoint family of brands!"
OnPoint's veteran team offers over 65 years of service experience, delivering comprehensive, convenient service to consumers across the country. Their omnichannel consumer portal pairs customers with highly-rated technicians within their local area, leading to shorter response times and an improved total experience.
To learn more about OnPoint's customer service solutions, visit onpointwarranty.com. For more information about THOR Kitchen's catalogue of professional appliances, visit thorkitchen.com.
About OnPoint Warranty Solutions
OnPoint was launched by customer experience experts with proven success in helping global brands deliver warranty services. OnPoint offers OEM warranty underwriting and extended warranty/service contract programs for product registration, retail POS and aftermarket programs. For builders and others in the home services industry, we offer home warranty and HVAC warranty programs. In 2021, OnPoint introduced a new screen protection program called Bounce. OnPoint continues to offer manufacturer warranty service programs, warranty service fulfillment, and logistics, to drive the highest levels of consumer experience in the service industry. Building on the foundation of a connected, multinational service network, omnichannel consumer interactions and consumer-focused technology, OnPoint creates brand loyalty through warranty service solutions designed to reduce risk, increase efficiency, delight consumers and improve our customer's bottom line. For more information, visit our website: http://www.onpointwarranty.com.
About THOR Kitchen
THOR Kitchen's professional appliances are full-featured, stainless steel machines designed to take meals to the next level. With features like high BTU burners and cast-iron cooking grates, THOR appliances offer premium power and performance—yet at a practical price. Sleek. Handsome. Versatile. These are some of the hardest working kitchen mates around, designed to please both the eyes and the appetite. For more information about THOR Kitchen and its full suite of kitchen appliances, visit thorkitchen.com.