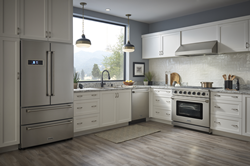 LOS ANGELES (PRWEB) January 20, 2022
THOR Kitchen has transitioned to a direct-to-dealer distribution model in key West Coast markets, including California, Arizona, Nevada, Washington, Oregon, and New Mexico. Independent appliance dealers throughout the region will have direct access to inventory and enhanced marketing support via THOR Kitchen's factory authorized sales team, THOR Marketing Group. The change took effect on January 1.
"In less than a decade, THOR Kitchen has developed into a leading brand of affordable, professional-style kitchen appliances thanks to the close collaboration of our trusted network of dealer partners," said Kyle You, THOR Kitchen Managing Director. "We are excited to make this important change to our distribution channels and to enlist THOR Marketing Group's trusted, seasoned professionals to exclusively support our West Coast dealer partners."
TWEET THIS: Professional appliance brand @THORKitchen will transition to a direct distribution model for key markets on the West Coast and will enlist the support of factory authorized dealer #THORMarketingGroup to support local dealer efforts. https://thorkitchen.com/
THOR Marketing Group brings nearly 60 cumulative years of experience in the appliance industry, primarily in wholesale and two-step distribution, and has offices based in Los Angeles and Sacramento. THOR Marketing Group will work directly with local dealers throughout the West Coast to fulfill inventory requests, provide marketing assets such as high-resolution product photography, distribute information on programming offers, including Flooring Terms, and develop discount programs for builders, designers and other trade professionals.
"THOR Kitchen has done a great job staying ahead of the many challenges facing the appliance industry. In particular, they have maintained a more robust inventory than many other appliance suppliers and lead times are among the shortest for professional appliances," said Dirk Leslie, President of THOR Marketing Group.
For more information about THOR Kitchen and its catalogue of professional appliances, please visit thorkitchen.com.
About THOR Kitchen
THOR Kitchen's professional appliances are full-featured, stainless steel machines designed to take meals to the next level. With features like high BTU burners and cast-iron cooking grates, THOR appliances offer premium power and performance—yet at a practical price. Sleek. Handsome. Versatile. These are some of the hardest working kitchen mates around, designed to please both the eyes and the appetite. For more information about THOR Kitchen and its full suite of kitchen appliances, visit thorkitchen.com.