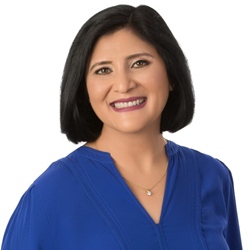 "If you want stellar success in accelerating your personal, professional, and financial goals, you've got to work with Divya!"Becky McCuen, Director QAKBI Pharma
CARY, N.C. (PRWEB) November 22, 2019
Divya Parekh is an influential figure in the leadership, marketing, and entrepreneurial spaces. She is a highly sought-after public speaker, a 10-time #1 bestselling author, as well as a prolific leadership and business mentor to entrepreneurial newcomers, youth, and more. The Influence Building Program is for organizations, companies, or conferences organizers that are focused on helping their employees and attendees build influence and create impact.
Divya Parekh began her coaching and influencing career over ten years ago. She has founded coaching and consulting companies, coached hundreds across six continents, and became a radio personality with her Blog Talk Radio Show and Beyond Confidence iHeart Radio Show. After slowly building a following and an audience, Divya Parekh started Dreams Accelerator, a full-service influence building and authority positioning agency that has grown to work with some of the most recognized people in the world.
Divya's influence building program includes elements of establishing an authentic persona, crafting a message, and delivering it. Divya emphasizes sharing the message through writing and speaking.
As the author of many books on various leadership and organizational topics, Divya brings professional recognition and esteem to her talks. Her recent bestsellers were The Entrepreneur's Garden - a compelling book explores the nine essential relationships that help entrepreneurs be successful while sustaining their passion; and Expert to Influencer: How to Position Yourself for Meaningful Impact - dives deep into how people can win the hearts of others with ease and create a compelling message that offers solutions and insights for those that follow them
Her most effective speeches are when she can encourage an audience to take action. She enjoys connecting and impacting an audience. Her philosophy is that any audience engagement thrives when the listeners know they are working with someone who has the expertise and knowledge in real-world business and has a proven record of success. She believes that relationships and leadership are the keys to any successful company, academia, or nonprofit organization to succeed.
Some subjects of past talks are:

Why: Purpose and Passion
Leadership and Influence
Mindfulness, Mindset
Getting More Out of Life
How to Stay Motivated
How to Refuel and Recharge Yourself
Creating Passion for What You Are Doing
How to Influence Others
How to Be More Productive
"Divya Parekh is a versatile international speaker and mentor. She presented at several biopharmaceutical conferences and was invited by the organizers repeatedly, always receiving great reviews. You can learn and grow to the next level with Divya. If you want stellar success in accelerating your personal, professional, and financial goals, you've got to work with Divya!"
Becky McCuen, Director QA
KBI Pharma
For more information on how you can engage with Divya, visit Divya's Speaker Reel on YouTube.
Divya Parekh is a global business leadership and influence building advisor and motivational speaker known for her ability to help clients cultivate powerful partnerships. She has been the guide and coach to many industry leaders. Divya works in close collaboration with some of the top corporate leaders, entrepreneurs, and coaches looking for strategies that can help improve their personal and business culture.
Divya also provides business and influence thought leadership as a contributor to Forbes Coaches Council, Grit Daily and Thrive Global; as a bestselling author of leadership and entrepreneurial books, as a speaker to businesses, associations, and organizations; as an influencer cited in major media outlets; and as an advisor and board member. Divya loves nature, people, mindfulness, and dogs.