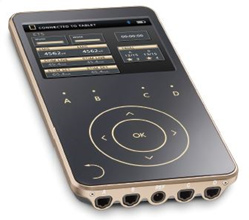 The company is looking to engage with international industry leaders to create synergies and collaborations.
MONTREAL (PRWEB) November 09, 2022
Thought Technology will be demonstrating its MyOnyx rehab device at Medica Trade Fair November 14-17, 2022, in Dusseldorf, Germany (Hall 16J44). Developed for the rehab market, the MyOnyx rehab solution features a sleek hand-held device, equipped with two surface electromyography (sEMG) sensors that measure and display muscle activity in real time. For use in continence training, it is coupled with a vaginal or rectal sensor and pressure sensors, it provides feedback that helps the rehab professional ensure the activation of the specific muscles being targeted for treatment. Both patient and therapist can see when exercises are performed correctly and efficiently. In addition, one of it's four stimulation sensors can be used for electrical stimulation o f vaginal/rectal sensors.
Urinary and fecal incontinence are very common disabling syndromes that can severely impact quality of life and wellbeing. Population-based studies have shown that urinary incontinence ranges between 2% and 25% in adults and that it is three times more common in women than in men. The prevalence of fecal incontinence ranges between 2% and 20% in the adult population and it equally affects men and women. It is frequently prescribed pre and post childbirth or prostatectomy surgery. Incontinence can severely impact lifestyle forcing sufferers to withdraw from day-to-day physical activity.
The MyOnyx rehab solution features training screens specifically designed for pelvic floor muscle rehabilitation. During the training sessions, the patient is guided by a bargraph or a tone to contract/relax the pelvic floor muscles (PFM) throughout a series of exercises, including tense/relax and quick flicks. As with any muscle being trained, this increases the size of the PFM, strengthens its tone at rest and heightens awareness of its contraction.
A powerful tool for continence training, the MyOnyx system can be used for single or dual site muscle rehabilitation protocols. When muscle activity is greatly reduced, due to partial paralysis, EMG triggered electrostimulation is an effective technique to help restore strength and movement control. The MyOnyx provides 2 channels of STIM/ EMG triggered STIM and 4 channels of electrostimulation options, including NMES.
MyOnyx is also a great tool for patient follow-up and outcome measurement. Users can download EMG biofeedback sessions (RMS) to the Android app and use it to review the data and print out statistical reports. It can be connected to a PC to easily access raw EMG data and generate session and trend reports - essential tools for documenting session work and tracking progress.
Asked about their continence training product line, Helen Mavros, Sales and Marketing Director, replied, "A significant segment of the population will experience incontinence at some point in their lives. The MyOnyx rehab solution takes continence training to the next level by helping clinicians provide targeted training, while helping their clients learn to perform training exercises more effectively. It's really about helping people regain confidence and restoring their freedom to do the things they love."
Thought Technology also offers a U-Control® Home Trainer. It's perfect for clients who want to accelerate their rehabilitation with additional training sessions or to periodically reinforce their successful clinical training at home.
About Thought Technology Ltd.
Founded in 1975, Thought Technology is the world's leading biofeedback and physiological instrument manufacturer. Its products are used as an essential part of many therapeutic treatments and clinical assessment protocols in over 85 countries and are used by tens of thousands of clinicians in thousands of medical institutions.
Always supportive of new research and development ideas, Thought Technology Ltd. has encouraged a number of special interest groups and clinicians to create cutting edge applications for its instrumentation. Thought Technology Ltd. equipment is now being used in telemedicine, web-based monitoring and biofeedback, sports training, research in human-machine interface, physiology-driven multimedia environments and virtual reality. Constantly striving to improve the quality of the products and services, TTL has obtained, and maintains, ISO 13485, and CE certification for the organization and products.