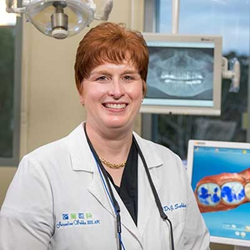 THOUSAND OAKS, Calif. (PRWEB) September 19, 2018
Dr. Jacqueline Subka, a trusted dentist in Thousand Oaks, CA, has added the iTero Element 2 digital scanner to her practice's list of leading-edge equipment including cone beam 3D imaging and CEREC one-day dental crowns. This new acquisition is aimed at helping patients achieve results faster through state-of-the-art technology.
The iTero Element 2 digital scanner enables Dr. Subka to more easily and thoroughly perform some of her most requested treatments. For instance, when evaluating a patient for Invisalign® clear braces, this technology can deliver precise digital impressions. This then leads to a higher likelihood of success for patients who want to straighten their teeth discreetly via Invisalign orthodontics.
Another use for the iTero Element 2 is to give Dr. Subka a better understanding of a patient's tooth wear or gum recession. Because early detection has been linked with reduction of progressive conditions like periodontal (gum) disease, having this type of insight can save patients money and time as well as prevent foreseeable health risks.
Other ways this iTero intraoral scanner can be used by the Thousand Oaks, CA, dentist and her team are to take digital impressions for nightguards, determine the correct shape and size of bridges, create dental implant abutments and map out the basis for individual same-day dental crowns. Best of all, this technology eliminates the need for messy impressions, improving patient comfort.
Patients in need of any restorative treatments or cosmetic dentistry options such as same-day crowns and Invisalign, are encouraged to contact Thousand Oaks, dentist, Dr. Subka, at 805-373-1919. Referrals are not needed, and several financing options are available for those without health insurance.
About the Doctor
Dr. Jacqueline Subka is general dentist offering personalized dental care for patients in Thousand Oaks, CA since 1999. Dr. Subka received her dental degree from the prestigious University of Southern California School of Dentistry in Los Angeles. Dr. Subka practices gentle dentistry and incorporates state-of-the-art techniques to provide leading, minimally invasive care. She and her team are committed to continuing education and strive to provide high-quality, personalized dental care to each patient. To learn more about Dr. Subka and the dental services she provides, visit her website at http://www.subkadds.com or call 805-373-1919.