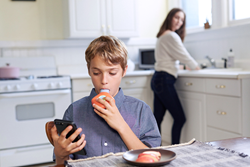 Aluna has changed, and will continue to change, the way I practice medicine.
SAN FRANCISCO (PRWEB) April 28, 2020
Aluna, the San Francisco Bay Area-based respiratory health management company, announces that since its FDA clearance, the demand for its portable spirometer has surged. With shelter in place orders, amid COVID-19, more medical professionals (and their patients) are seeking devices like Aluna to help manage lung health from home.
With Aluna, patients can easily monitor their lung health, while doctors gain instant access to daily FEV1 scores. This platform can catch early signs of respiratory events, like asthma attacks, and help reduce unnecessary trips to the ER. So now, patients with compromised health don't have to risk exposure to COVID-19.
Aluna advances the use of telemedicine, offering its users a platform to manage and learn more about their lung health from the comfort of their home (or on-the-go). Its innovative product monitors lung health, effectively mimicking the spirometry exams typically performed in a doctor's office. Its small handheld device pairs via Bluetooth over an iOS app allowing the user to see instant results, log them over time and then export the data to their doctor.
"Aluna has changed, and will continue to change, the way I practice medicine. We partnered with Aluna when it was still undergoing research & development and began rolling it out to our patients. It allows you to perform spirometry at home, rather than just once or twice a year in the office. With Aluna, we can track symptoms, triggers, medications, lung function and composite scores to improve outcomes. " - Dr. Travis A Miller, MD, The Allergy Station, Roseville, CA
Though their digital spirometer is a small, sleek device, Aluna's team emphasizes the spirometer's hospital-grade level of accuracy. Also, due to a large number of kids with asthma and other respiratory issues, the accompanying consumer app is designed to engage and motivate users to check their respiratory health daily.
"Amid COVID-19, there is an enormous demand for Aluna and our respiratory health management. We are honored to have received FDA clearance and excited for doctors and patients to experience Aluna's spirometer, app, and dashboard, which allows doctors to review FEV1 scores in real-time." – Charvi Shetty, CEO of Aluna
Physicians that are interested in experiencing the Aluna Respiratory Management platform for their practice, should contact Aluna directly at doctors@alunacare.com. Consumers can find more information at alunacare.com.
You can find the Aluna Press Kit here.
--
About Aluna
Aluna's mission is to provide clarity, peace, and control of your respiratory health. Aluna was founded by Charvi Shetty, Huyson Lam, and Inderjit Jutla, and is located in San Francisco, CA.
For press-related inquiries, please reach out to press@alunacare.com.