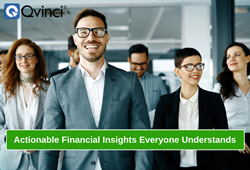 Business Intelligence capabilities such as peer benchmarking have proven to be very valuable. For example, before Qvinci, it would have taken me months to consolidate reports for 100 locations. Now, that work can be done in five minutes. - Brett Shraiar - Business Development Manager, MaidPro
Austin, Texas (PRWEB) February 11, 2021
Finally, there's a solution to a problem that has plagued commercial and nonprofit enterprises for decades – Most business owners and field managers don't understand "traditional" financials and aren't comfortable learning them. Consequently, heaps of vital information is overlooked, too often resulting in poor performance that was altogether avoidable. Which is exactly why franchises, multi-unit businesses, accounting firms, dioceses, and the like are choosing Qvinci Software for their automated financial reporting and business intelligence.
Managing Your Clients or Organizations With Trending, Benchmarked Data and Customizable KPIs is Possible
One reason franchises like MaidPro are partnering with Qvinci is for its transformative solutions such as the KPI Scorecard. This tool alone provides tomorrow's technology to the organizations that need it today, enabling them to pinpoint their precise, present financial position and make ultra-informed decisions.
Read the Full Testimonial from MaidPro
The KPI Scorecard's use of predictive analytics (RED / GREEN ratios), charts, and graphs lets its users provide easy-to-understand, actionable insights into where organizational entities are thriving, as well as areas that are under-performing and require corrective action. There's true flexibility in defining not only the most important metrics to monitor, but also in evaluating the results compared to selected peers, ensuring a successful path forward.
With the KPI Scorecard, users can create:

Custom KPIs (Key Performance Indicators) based on their own ecosystem metrics
Consolidated KPIs across numerous franchises, single SMBs, clients, dioceses, etc. (Qvinci owns the patent for consolidated reporting)
Trended comparisons of KPIs month-over-month or year-over-year
Comparisons to the "ideal" range of values set by the manager/user
And much more…
Same as all Qvinci solutions, the KPI Scorecard auto-updates, auto-blends, and auto-packages in a split second. Users have access to cash position, P&L performance, expense analysis, AR/AP analysis, and much more – with the click of a button. Once onboarded, its near real-time!
Want additional information about Qvinci's KPI Scorecard? — Watch the video or read the press release
Create Virtually Unlimited Hypothetical Financial Scenarios to Forecast Future Outcomes With Qvinci's New Model-Merge Technology
In today's world, technology advances daily, and those professionals and organizational decision-makers who don't keep up with it are oftentimes left wondering why they're losing clients or falling behind their competitors. When it comes to innovation in financial reporting and business intelligence, the easiest way to stay ahead of the curve is to partner with Qvinci, which is what Volpe Consulting and Accounting Services did.
Read the Full Testimonial from Volpe Consulting and Accounting Services
Consider Qvinci's What If – Cashflow and Forecasting Optimizer. This incredible tool gives its users the ability to define their future and monitor their progress while also enabling them to stay profitable or avoid disaster. It eliminates the risky guesswork in planning how to reach financial goals, ensuring a faster, more secure path forward. Qvinci's RED / GREEN indicators, charts, and graphs, which are mainstays to all its reporting, ensure the decision making and corrective action implementation are a breeze.
Qvinci's What If tool also allows its users to:

Create an almost unlimited number of hypothetical What If models and forecasts to show the ongoing granular impact of future financial decisions on their business's income, expenses, profitability, and cash over time
Set the reference period as a single month, range average, or seasonal span
Present a 12-month What If to Actual report with integrated charts and graphs
Predict if/when additional funding may be required, or if/which costs need to be trimmed or cut well before a crisis arises
And much more…
Who wouldn't benefit from being able to manipulate figures in a report and see the future financial impact in an instant? No more wrangling multiple spreadsheets and performing complex calculations for hours. All it takes is plugging in a few numbers and hitting the 'Enter' key.
Want additional information about Qvinci's What If tool? — Watch the video or read the press release.
How Does Qvinci Help So Many Firms and Organizations Provide High-Impact Advisory and Consultative Services?
Another great advantage of choosing Qvinci is that its solutions are industry agnostic. Whether a franchise with 100+ locations, a small business with five entities, an accounting firm with twenty clients, or a diocese overseeing numerous churches, cemeteries, and schools, Qvinci can help professionals and decision-makers save tons of time collecting and consolidating the data, preparing financial reports, and utilizing its business intelligence to make better and more timely strategic decisions.
Read the Full Testimonial from Diocese of Syracuse
The Diocese of Syracuse experienced this first-hand after having decided to trust Qvinci. With tools like those mentioned above, as well as the Advisory Portal, they not only benefit from automated and consolidated financial reporting, but they're able to generate ample advisory conversations with their various entities, helping them avoid potentially disastrous consequences while also guiding them to fully thrive.
The Advisory Portal benefits its users by:

Motivating clients or managers to call their accountants or executives for insight when they see easy-to-read reports with GREEN and RED numbers and ratios, indicating areas that are doing well, or need immediate attention and remedial action
Focusing on the 10 key ratios that drive most organizations
Providing a single, wide-angle view of clients or locations
Presenting clients' and entities' summary movement data over time (dynamic)
Allowing for the ability to drill down to the relevant financial data
And much more…
With one wide, but ultra-precise, view of information that matters, accountants and executives can collaborate with clients and field managers to apply corrective action in areas that are performing poorly.
Want additional information about Qvinci's Advisory Portal — Watch the video or read the press release.
There's a reason thousands of organizations are choosing Qvinci to meet their advanced data collection and consolidation, financial reporting, and business intelligence needs. The world is more technologically sophisticated today than it was yesterday, and it will be more so tomorrow. Not only will advancement never stop, it will propel forward at a blinding speed. That's why Qvinci will continue to innovate ahead of the curve.
Fortunately for franchises, multi-unit businesses, accounting firms, dioceses, and the like, there's Qvinci, the global leader in data collection and consolidation, financial reporting, and business intelligence technology that saves time, cuts expenses, and boosts revenue, all with the simple click of a mouse.
As always with Qvinci, GREEN = "You're good" and RED = "We need to talk!"