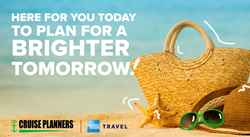 "During this time of uncertainty, the excitement of planning for a future trip with the help of a trusted travel advisor may be just what you need. Give yourself something to look forward to," says Michelle Fee, CEO and Founder, Cruise Planners, an American Express Travel Representative.
CORAL SPRINGS, Fla. (PRWEB) May 06, 2020
Despite hundreds of thousands of cancelled vacations and extended travel restrictions well into the summer months due to Covid-19 pandemic, there are some rays of sunshine for travelers considering their options for future travel.
When cruise vacations and travel are cancelled by the travel supplier, "Future Travel Credits" are often offered to guests so they use the value of their vacation investment to rebook their next vacation, often with some added perks or value. Cruise Planners refers to future travel credits – and these added perks -- as "Golden Tickets and encourages clients to take advantage of timing by rebooking that vacation now. Securing a new reservation now has advantages, such as beating the rush, special rebooking offers and securing preferred itineraries and staterooms. Many cruise lines and travel providers are even offering a no-risk booking guarantee. This allows consumers to cancel their trip up to 48 hours before departure.
Travel advisors can determine if travelers qualify for a future travel credit and help apply it toward a new booking. Each company's future travel credit policy and booking bonuses may vary, so working with a travel advisor ensures that travelers get the best value and maximized options. With Cruise Planners Travel Advisors in every state, it's easy to find dedicated and experienced local travel agents.
How do the Future Travel Credits Work?
Many travel providers are offering additional perks to sweeten the deal for those who opt to take a future voucher instead of a refund. Cruises are offering incredible specials for future travel. Some of the perks include up to 25% in added value, additional discounts of up to 20%, onboard credits, and more. These extra benefits are combinable with special offers such as reduced airfare, free open bar, free specialty dining, free excursions, free WIFI, or even free sailings for kids. The network of Cruise Planners Travel Advisors has the tools and experience to crunch the numbers, stack the offers and secure the best itinerary for customers who may not know the ins and outs of the travel industry. Consumers who booked their first direct to a cruise line or with an online travel agency can work with a Cruise Planners Travel Advisor to apply their future travel credit towards a new itinerary.
How to Maximize Travel Options
When a travel reservation is canceled altogether, consumers may leave valuable vacation perks on the table, or alternative solutions, had they rebooked a future vacation instead. A travel advisor can guide consumers through the rebooking process to ensure they get the most value when modifying their travel reservation. Even if a room or travel fare isn't refundable, there may be alternative options to get a travel voucher for a future trip. Cruise Planners encourages consumers to let a travel expert negotiate on their behalf and be their advocates before, during and after a trip.
A travel advisor will be quick to respond and can answer questions with subject matter expertise. Cruise Planners believes a customer shouldn't be burdened with long hold times or negotiating with the travel provider directly. As the travel expert, Cruise Planners' advisors know how to work with the travel provider to make modifications to flight and or cruise itineraries.
What Travelers Should Do Now
There are advantages to booking a vacation now as opposed to waiting and booking later. Once travel reopens, there will likely be a frenzy of people booking their long-awaited holidays in addition to rebooking canceled or postponed life milestone celebrations like destination weddings, family reunions, and anniversaries. "Now is the time to select the stateroom you want, the perfect oceanfront view hotel room, and guided wine tour with great rates because we all know that when the economy starts bouncing back, so will prices. It's all about supply and demand. Go get that well-deserved vacation now," says Vicky Garica, Co-owner and COO, Cruise Planners, an American Express Travel Representative.
As the travel industry continues to face COVID-19, Cruise Planners is positioned for long-term success due to its strong partnership with cruise lines and travel suppliers and commitment to servicing its valued clients.
About Cruise Planners
Cruise Planners, the nation's largest home-based travel advisor franchise network and an American Express Travel Representative, has more than 2,500 franchise owners who independently book vacations and travel experiences for their clients. Headquartered in Coral Springs, Fla. since 1994, Cruise Planners supports its network of franchise owners with innovative marketing, booking and technology tools, professional development and training with the industry's top executives. Cruise Planners has been named the No. 1 travel franchise by Entrepreneur magazine for 17 consecutive years and was on the Inc. 5000 list as one of the fastest-growing private companies in America. Cruise Planners has achieved top producer status with every major cruise line, many land vendors and maintains a philanthropic drive earning an International Franchise Association FranTech award for innovation and Magellan Awards from Travel Weekly.