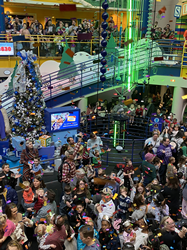 Celebrate New Year's Eve with a giant water clock that teaches little ones a unique way of telling time while grown-ups explain the importance of time while creating special family memories.
Indianapolis, IN (PRWEB) January 01, 2020
Confetti flew, Grammy-nominated Zak Morgan band played and families cheered as they rang in a new year and a new decade next to North America's largest Water Clock. The bright blue and neon green clock stands two-and-a-half stories tall (26.5 feet) at The Children's Museum of Indianapolis. The water within dripped down drop by drop to indicate the time and splash into 2020 at family-friendly hours of 12 p.m and 1 p.m.
Families who were not able to join the New Year's Eve celebration can visit most days throughout the year to have an actor-interpreter explain how water helps tell time in a kid-friendly way. In short, the big orb-shaped balls represent one hour time increments while the smaller discs represent two minutes. When it's time to move forward to a new hour, visitors watch the water drain through siphons and gravity from the smaller discs to fill a new orb and therefore move forward one hour.
This particular water clock was designed by French physicist and artist Bernard Gitton and was procured by the museum in 1989. Since then, the clock has attracted crowds of visitors who marvel at its beauty and accuracy, and learn to tell time in a whole new way.
Countdown to Noon is an annual event designed to celebrate the final day of the year without keeping kids up past bedtime. The one-of-a-kind, annual celebration is sure to be a family tradition as children learn to tell time in a new way and grownups explain the value of time spent together and create new memories to share.
Visitors have a few more days to enjoy the museum's traditional Jolly Days Winter Wonderland exhibit before it closes Jan. 5, 2020. In this holiday themed exhibit, families join in faux fishing, sock skating and holiday baking. There is also a castle to climb and a magical globe that allows visitors to let it snow at the push of a button!
Also closing Jan. 5th is Treasures of Ancient Greece! The unique exhibit features rare Greek antiquities, some of which are being exhibited for the first time in the United States. Families learn about ancient ruins, temples and open-air theaters along with philosophers and mythological gods. Visitors to Treasures of Ancient Greece at The Children's Museum of Indianapolis will discover how the ideas of the ancient Greeks form the basis of much of Western civilization as we know it today through artifacts that depict ingenious science and technology, politics and medicine.
Pigeon and Pals (A Mo Willems Art & Play exhibit) – Feb. 8 – May 10
Wild Weather – March 14 – Jan. 10
Barbie™: You Can Be Anything™ - May 30 – April of 2021
First & Goal (will remain open for most of 2020)
Take Me There: Greece (an immersive, hands-on exhibit featuring modern day Greece will remain open for the next few years)
The Children's Museum of Indianapolis Board of Directors would also like to thank its official partners—Riley Children's at Indiana University Health, Old National Bank and Ice Miller LLP.
About The Children's Museum of Indianapolis
The Children's Museum of Indianapolis is a nonprofit institution committed to creating extraordinary learning experiences across the arts, sciences, and humanities that have the power to transform the lives of children and families. For more information about The Children's Museum, visit http://www.childrensmuseum.org, follow us on Twitter @TCMIndy, Instagram@childrensmuseum, YouTube.com/IndyTCM, and Facebook.