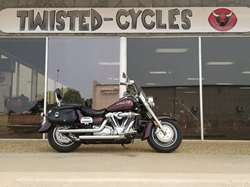 DALLAS (PRWEB) October 24, 2020
Known most for their sport bikes and cruisers, the Yamaha brand has built many different motorcycles in its existence. One such group includes Yamaha V-Star motorcycles, which customers can find at Twisted Cycles. The dealership currently has three pre-owned 2009 Yamaha V-Star models in its Lubbock inventory for sale. Each model has its VIN number.
Among the 2009 Yamaha V-Star models at the dealership, a black 2009 Yamaha V-Star 650 is available. The model has a 650cc five-speed transmission and has just 8,001 miles logged. Dual saddlebags are placed on the model. It has been at the Lubbock dealership since early September 2020.
A blue 2009 Yamaha V-Star XVS1300CT is also available for purchase. Built with a 1300cc five-speed transmission, the model receives around 81 ft-lbs of torque. The traditional cruiser motorcycle has 9,594 miles driven. The dealership has had the model in-stock since mid-September.
Lastly, a 2009 Yamaha V-Star 1700 is available at Twisted Cycles of Lubbock. The model has a burgundy exterior color and has dual black saddlebags attached to the rear. The cruiser has been driven for 46,987 miles and has been in-stock since mid-September.
For direct pricing on each pre-owned 2009 Yamaha V-Star, customers are invited to contact an associate at Twisted Cycles directly. The Lubbock dealership is located at 2401 S Loop 289. However, those interested can call the dealership directly at 806 687-7300. Photos and further information on each model can be found on their website at https://www.twisted-cycles.com/.