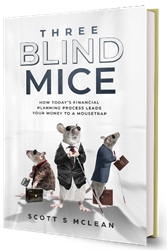 "The problem is these key consultants rarely consult with each other about you. You're typically working with "three blind mice."
FORT LAUDERDALE, Fla. (PRWEB) April 15, 2020
Advisors' Academy Press is pleased to announce the publication of their latest book, Three Blind Mice: How Today's Financial Planning Process Leads Your Money to a Mousetrap, by Scott S. McLean listed in the Top 20 on Amazon's Hot New Releases in Retirement Planning ahead of its official launch date.
Scott McLean, a seasoned financial thought leader, is the Founder of McLean Advisory Group, host of the weekly radio show Financial Insanity on WBNJ and a regular guest on financial TV shows like The Income Generation with David Scranton.
The book spotlights the communication challenges the financial planning industry faces when it engages with clients – specifically, the common disconnects between a financial advisor, tax accountant, and attorney all serving as fiduciaries for the client.
Author, Scott McLean believes, "the problem is these key consultants rarely consult with each other about you. You're typically working with "three blind mice." He added, "Although unintentional, this can end up being very real and extremely costly to the client."
This often overlooked disconnect was the catalyst behind Scott writing Three Blind Mice. It stresses important financial topics people need to understand to improve their chances of achieving financial success. The book provides key questions an individual needs to ask their advisors to keep them connected and operating on the same financial game plan.
The book officially launched on April 14, 2020 and pre-order sales already catapulted it to the Top 20 Hot New Releases in Retirement Planning on Amazon. For more information, visit: ThreeBlindMiceBook.com.
About Advisors' Academy Press: Advisors' Academy Press, LLC is partially owned by David J. Scranton and its books are distributed by Simon & Schuster, part of the CBS Corporation. To date, every book published by Advisors' Academy Press has made the list of Amazon Hot New Releases upon its publication.
Important Disclosure: Three Blind Mice is intended for educational purposes only and should not be considered investment, legal, or tax advice. Prior to making any financial decision, you should always seek individualized advice from a professional that takes into account all of the particular facts and circumstances of an investor's own situation.