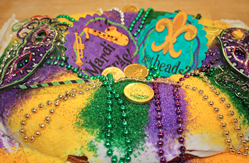 We can't think of a better way to kick off our 70th anniversary celebration than by encouraging customers to come in store or shop our online store to enjoy our King Cakes.
HOUSTON (PRWEB) January 03, 2019
January marks the start of a sweet 2019, as Three Brothers Bakery looks forward to commemorating their 70th anniversary. Three Brothers Bakery opened in Houston on May 8, 1949 and will roll out a series of specials and promotions throughout the year to celebrate. Mardi Gras also begins this month, on January 6, so customers can begin placing their orders for the bakery's famous King Cakes.
"We can't think of a better way to kick off our 70th anniversary celebration than by encouraging customers to come in store or shop our online store to enjoy our King Cakes," said Bobby Jucker, bakery co-owner and fifth generation baker. "Our King Cake has become one of our signature items, and we are thrilled with how it brings a real piece of Louisiana Mardi Gras tradition to Houston."
Three Brothers Bakery perfected their King Cake recipe over the years, traveling to Louisiana to discover what makes the perfect traditional King Cake. Available in three sizes to feed groups from eight up to 24 people, the King Cakes from Three Brothers Bakery are made in the classic Louisiana style, filled with cream cheese or fruit flavors and topped with Mardi Gras' purple, green and yellow colored sanding sugar on white icing. A small plastic baby is included with each of the sweet desserts, allowing the giver of the King Cake to hide the surprise within the cake. Whoever finds the baby is tagged as the person to bring the next King Cake.
For the last 70 years, Three Brothers Bakery has woven itself into the fabric of the city of Houston, creating memories for generations of families. In addition to the bakery's three Houston locations, they also recently launched a redesigned online store, making it easier than ever for customers from all across the U.S. to shop online. The bakery's online store features select items that can be ordered and shipped across the U.S., including King Cakes, making the Houston-based bakery the one stop shop for desserts and pastries all year long.
About Three Brothers Bakery
The traditions of Three Brothers Bakery began in Chrzanow, Poland circa 1825, and were preserved despite the family's concentration camp imprisonment during the Holocaust. Their miraculous liberation, and subsequent move to Houston, brought Eastern European scratch baking traditions to 4036 S. Braeswood Blvd, 12393 Kingsride Lane, and 4606 Washington Ave where the owners are now proud to call themselves "memory makers who just happen to be bakers.®" Perfecting the process for almost 200 years, each day the fifth generation bakers produce breads and pastries, cookies, a full line of specialty dessert cakes and pies, as well as custom birthday, special occasion, wedding and groom's cakes using only the highest quality ingredients. They also have an extensive dairy-free baked goods line.
The Three Brothers Bakery pecan pie was named "the best mail order pecan pie America has to offer" by Country Living magazine in 2016 and "10 Best Mail-Order Pies Made In the U.S." Bakery owner, Bobby Jucker, competed in the popular "Food Network Challenge" and has been seen on Food Network's Outrageous Food. Three Brothers won "Best Mail-Order Pies 2012" from Bon Appetit, as well as Modern Baking's "2013 Retail Bakery of the Year" and was part of The Knot's "2010-2013 Best of Weddings" and "Hall of Fame" picks. In 2013, the bakery won the Jeffrey Butland Family-Owned Business of the Year by the Houston division of the U.S. Small Business Administration. Most recently, Three Brothers Bakery was named one of "America's 20 Best Bakeries" by The Daily Meal in 2016 and in 2018, the bakery's Pumpecapple Pie Cake was featured on BuzzFeed's "Worth It" web series. In 2018, Three Brothers Bakery received the SBA Phoenix Award for Small Business Disaster Recovery.
Follow Three Brothers Bakery on Facebook and Twitter for Houston area news, information and events.
https://3brothersbakery.com/