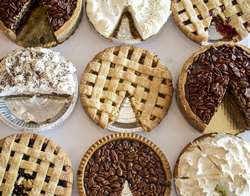 "Thank God for Sarah, the intern. It is because of her call that we have such a robust pie business and can celebrate National Pie Day," quipped Jucker.
HOUSTON (PRWEB) January 22, 2019
Every baked good has it's day, and Wednesday, January 23rd is a day for an entire category - pies. It is National Pie Day. Every year Three Brothers Bakery offers a discount on all regular size pies (excludes deep dish pies and Pumpecapple Piecake). But this year the discount will be 10% online and in-store and run through March 31st as part of their 70th anniversary extended offerings. Customers can use the code: EatMorePies to obtain the discount.
Three Brothers Bakery reached acclaim as pie bakers after Country Living Magazine deemed their mail order pecan pie the best in America in 2010 and repeatedly since then. Prior to that the bakery only made about 200 pies a year at Thanksgiving and now, according to Bobby Jucker – co-owner, Three Brothers Bakery "we ship FedEx trucks full of pecan pies annually." Jucker admitted he almost did not send the pies to the magazine because he thought it was a college kid calling to get free pies, but at his wife, Janice's, insistence he did, and that one phone call changed the course of the bakery forever. We always say, "Thank God for Sarah, the intern. It is because of her call that we have such a robust pie business and can celebrate National Pie Day," quipped Jucker.
Wednesday, Three Brothers Bakery will have pecan, fudge pecan, apple, cherry and meringue pies available in store and others can be purchased online for future orders, including their award winning key lime pie, which won the 2017, American Pie Council National Pie Championship in its category.
For more information regarding Three Brothers Bakery, 70th anniversary and baked goods offerings please contact Janice Jucker at 713-299-2139 or media(at)3brothersbakery(dot)com.
About Three Brothers Bakery
The traditions of Three Brothers Bakery began in Chrzanow, Poland circa 1825, and were preserved despite the family's concentration camp imprisonment during the Holocaust. Their miraculous liberation, and subsequent move to Houston, brought Eastern European scratch baking traditions to 4036 S. Braeswood Blvd, 12393 Kingsride Lane, and 4606 Washington Ave where the owners are now proud to call themselves "memory makers who just happen to be bakers®." Perfecting the process for almost 200 years, each day the fifth generation bakers produce mostly dairy-free breads and pastries, cookies, a full line of specialty dessert cakes and pies, as well as custom birthday, special occasion, wedding and groom's cakes using only the highest quality ingredients.
The Three Brothers Bakery pecan pie was named "the best mail order pecan pie America has to offer" by Country Living magazine most recently in 2016, bakery owner, Bobby Jucker competed in the popular 'Food Network Challenge' and has been seen on Food Network's Outrageous Food. Three Brothers won "Best Mail-Order Pies 2012" from Bon Appetit, as well as Modern Baking's "2013 Retail Bakery of the Year" and was part of The Knot's "2010-2013 Best of Weddings" and "Hall of Fame" picks. In 2013, the bakery won the Jeffrey Butland Family-Owned Business of the Year by the Houston division of the U.S. Small Business Administration. Most recently, Three Brothers Bakery was named one of "America's 20 Best Bakeries" by The Daily Meal in 2016 and in 2017 blue ribbon champion at the American Pie Council's National Pie Championship for their key lime pie in that category, and in 2018, the bakery's Pumpecapple Pie Cake was featured on BuzzFeed's 'Worth It' web series.
In 2018, Three Brothers Bakery received the SBA Phoenix Award for Small Business Disaster Recovery and encourages everyone to "shop disaster zones" to help small businesses recover after natural disasters.
Follow Three Brothers Bakery on Facebook and Twitter for Houston area news, information and events.