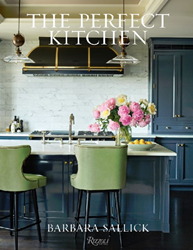 "There's definitely the trend that envisions the kitchen as a work of art in addition to a functional space," says Rush Jenkins, WRJ Design creative director and co-owner.
JACKSON HOLE, Wyo. (PRWEB) June 26, 2020
Always known as the heart of the home, kitchens have been getting extra attention – and use, with even former non-cooks trying their hands at meal prep – the past few months. So the recent release of The Perfect Kitchen (Rizzoli) by Waterworks cofounder Barbara Sallick came at a fortuitous time, packed with photos of extraordinary custom culinary spaces both inspirational and aspirational – including three standout examples from Jackson Hole, Wyoming-based WRJ Design.
"The kitchen touches on realms of memory and intimacy, elements much more challenging to get right than hardware or paint color," writes Sallick, who emphasizes the importance of the kitchen as an experiential space – functionally, aesthetically and emotionally. It is in making a kitchen truly personal that all three of those boxes get checked, she explains.
That philosophy is shared by WRJ Design, who start each of their one-of-a-kind spaces with a detailed questionnaire "that lets us understand all the extensive and different uses and needs the client will have for the kitchen," says Rush Jenkins, WRJ Design creative director and co-owner with partner Klaus Baer. "And we love to customize our clients' kitchens by incorporating pieces or collections that are meaningful to them."
While the three WRJ Design kitchens selected for Sallick's book look very different – one projects a Midcentury Modern vibe with sleek wooden surfaces, one deftly combines ultra-contemporary with antique and rustic elements, and the third treats a standout range and custom hood like prized sculpture – all three take cues from their stunning Rocky Mountain settings and all work as hard as they are beautiful.
"With today's open floor plans leaving kitchens prominently exposed to other rooms, there's definitely the trend that envisions the kitchen as a work of art in addition to a functional space," says Jenkins. "That idea fits with our belief that a kitchen is never a sequestered room, but always intimately connected to other parts of the home. And when it comes to the finishes of tile, stone and hardware, we make sure that each works with the others to create a feeling of harmony in the kitchen as a whole. Ultimately, we're known for serene, beautiful kitchens that are functional when they're being used and artistic statements when they're not."
About WRJ Design:
Headquartered in Jackson, Wyoming, WRJ Design imparts the special serenity of its local Teton landscape to interior designs in Jackson Hole and across the country. Begun out of a passion for great design by Rush Jenkins and Klaus Baer, WRJ creates experiences and environments through its designs that provide timeless reflections of homeowners and their collections, combining the work of regional artisans with finely crafted European furnishings and accessories, and historically rich one-of-a-kind pieces curated from around the world. WRJ Design has been awarded the Home of the Year by Mountain Living in both 2016 and 2018. Jenkins and Baer's recent book "Natural Elegance: Luxurious Mountain Living," published by Vendome and photographed by William Abranowicz, sparked a cross-country book tour for the design duo. Featured homes from the book have appeared in Luxe, Traditional Home, House Beautiful and other national publications. For more information visit wrjdesign.com and follow WRJ Design on Instagram.