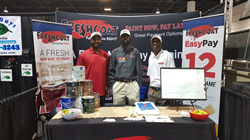 When you combine our quality and service with the tools, resources and franchise support, Fresh Coat Painters of St. John's provides an unmatched customer experience. - Kyle Sims
ST. JOHNS, Fla. (PRWEB) March 09, 2020
Finding a high-quality, trustworthy company to work on your home can be stressful, but three friends are looking to change that experience when it comes to the painting industry in North Florida. Merrick Kelly, William Clark and Kyle Sims are pleased to announce the launch of their new business – Fresh Coat Painters of St. John's.
Fresh Coat Painters offers residential and commercial painting services including interior and exterior painting, deck sealing and staining; pressure washing; popcorn ceiling and wall paper removal; garage epoxy and other services for nearly every protective coating. Fresh Coat of St. John's has a 24/7 receptionist, online scheduling and free detailed quotes, and they only use high-quality materials. Fresh Coat Painters of St. John's serves Ponte Vedra, St. Augustine, Middleburg, St. John's, West Jacksonville and the surrounding areas.
"Fresh Coat Painters is unique because we are committed to high-quality work and a better customer service experience. Our painters are employees and they are all trained and background checked. However, we do use qualified, licensed, and insured subcontractors," Sims said. "When you combine our quality and service with the tools, resources and franchise support, Fresh Coat Painters of St. John's provides an unmatched customer experience."
As part of the company's commitment to customer service, Fresh Coat offers a 3-3-3 customer service pledge, which means calls will be answered by a live person within three rings, a quote will be delivered within three days (customer schedule permitting) and the job will be started within three weeks. Fresh Coat has a national product partnership with Sherwin-Williams®, so products are guaranteed to be high quality.
Sims, Clark and Kelly are from three different parts of the country – Phoenix, Orlando and Bennettsville, South Carolina respectively – and they met in Jacksonville, Florida. Sims and Clark were both teaching while Kelly, an Army Veteran, was running his vending machine business. Three hit it off and realized that, with their complementary skill sets, they could excel in business together.
"As we started exploring our options, we realized franchising would be a great route to get started quickly and we've all always enjoyed working directly with the community. At Fresh Coat, we provide a concierge-style approach to customer service. You tell us about the dreams for your home and we put together a plan to make those dreams come true. We are looking forward to working together to help people love their homes," Clark said.
Fresh Coat Painters was founded in 2004 as part of Strategic Franchising Systems. Since 2015, Fresh Coat has been included in the Bond's Top 100 and named to Entrepreneur Magazine's Franchise 500 list. Fresh Coat is also part of the International Franchise Association, the Small Business Association's Franchise Registry, VetFran and Minority Fran. All Fresh Coat Painters employees are background checked and Fresh Coat of St. John's, FL is bonded and insured.
For more information about Fresh Coat Painters of St. John's, call (904) 293-2025, email wclark@freshcoatpainters.com or visit http://www.freshcoatpainters.com/st-john.