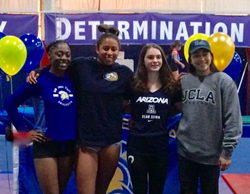 All of these ladies have worked extremely hard to get to where they are today.
EMERYVILLE, Calif. (PRWEB) December 05, 2018
On November 19, 2018, excitement was in the air as girls team athletes from Head Over Heels Athletic Arts (HOH) in Emeryville, CA prepared to celebrate. Three senior girls -- Frida Esparza, Alessandra (Zaza) Brovedani, and Shyan Phillips -- each sat at tables draped with college pennants. Each one signed a Letter of Intent to attend an NCAA Division I college on a full ride gymnastics scholarship. Frida Esparza was excited to sign with UCLA, Zaza Brovedani with University of Arizona, and Shyan Phillips with San Jose State. Despite a broken foot, resilient senior Kaya Allison was honored with her teammates, having recently accepted a position on the UC Davis team.
Each girl had unique memories of training and competing with the HOH family. Frida recently competed at the Artistic Gymnastics World Championships in Qatar and won 27th place overall. Zaza has been training at HOH for the past 13 years and qualified to the Junior Olympic National Championships several times. Shyan's dazzling smile has only lit HOH for the past year, but she has already had a long and successful career throughout years of training at Pacific West Gymnastics in Union City. Kaya has been on the HOH team for the past seven years and has stuck with the sport she loves even at the very unusual gymnast height of 5'9". All four of these ladies have worked extremely hard to get to where they are today, and are excited about the possibilities available to them as a result of their HOH gymnastics training. We're so proud of all of them and excited to cheer them on toward the next step in their journeys.