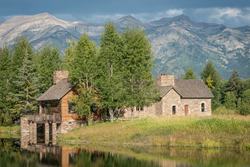 Three out of the 15 featured homes named were designed by acclaimed Montana firm JLF Architects, whose impressive projects in Wyoming and Montana proved popular with readers.
BOZEMAN, Mont. (PRWEB) January 15, 2019
Mountain Living magazine recently revealed its most popular house feature stories based on readership in 2018, showcasing a variety of fabulous mountain homes from around the country. In the piece titled "Top 15 Mountain Homes of 2018," houses in Utah, Idaho, California and Colorado captured the attention of readers throughout the year. Three out of the 15 featured homes named were designed by acclaimed Montana firm JLF Architects, whose impressive projects in Wyoming and Montana proved popular with readers.
JLF-designed homes featured in the "Top Mountain Homes" piece include The Creamery. This project's unique story has captured the attention of media internationally including Dwell, Country Living, House Beautiful, Inhabitat and Curbed as well as design websites in Canada and Italy. Anchoring the home's design is an 1890s stone dairy barn, discovered by JLF principal Paul Bertelli on a Montana ranch. Referring to it as "the ultimate antique," he recognized the architectural potential in reclaiming the neglected structure and contacted antique-loving clients looking to build a home. JLF Architects and construction partner Big-D Signature carefully dismantled the barn and rebuilt the structure stone by stone on a stunning waterside piece of property near Jackson Hole, Wyoming. The design-build team masterfully restored the authentic craftsmanship and rugged austerity of the original barn while making it modern and livable.
Another JLF project that piqued Mountain Living readers' interest in 2018 was a stunning three-story home in Montana's exclusive Yellowstone Club. Titled "Third Time's a Charm" to reflect the homeowners' journey through options before discovering the perfect lot with breathtaking panoramic views, the story describes the creation of a mountain dream home. Working with JLF, the homeowners' taste and lifestyle was reflected in an 8,500-square-foot 6-bedroom home constructed of Montana moss rock, reclaimed timbers and large steel windows to capture impressive Lone Peak vistas.
The third project by JLF Architects featured in Mountain Living's 2018 top homes list was a house in Jackson Hole's Teton Village that combined stucco, stone and wood walls with a cedar shake roof to create Mountain West styling with European design details. Again working in design-build collaboration with Big-D Signature, the design team created a spectacular vacation home in Wyoming for an active California family that Mountain Living dubbed "Mountain Mixture." Notable throughout the home are the sculptural elements of exposed steel trusses, hardwood and quartzite floors, as well as reclaimed wood accents. While the exterior's European influence is clear, cleaner, simpler interior finishes shape comfortable spaces with a contemporary push.
About JLF Architects:
Building timeless structures rooted in integrity and simple elegance, JLF Architects, with offices in Bozeman, Montana; Jackson, Wyoming; and Park City, Utah, applies distinctive solutions and materials to create place-based houses marked by the influences of landscapes from the Rocky Mountains to the Eastern Seaboard. JLF Architects has established a genuine alliance with Big-D Signature, built over 17 years of working together, to create a streamlined design-build process that benefits clients. Winners of Mountain Living magazine's 2016 Home of the Year, the JLF Architects and Big-D Signature design-build team unites passionate architects with dedicated builders to enable the collective imagination of visionary artisans working with visionary clients. For more information visit http://www.JLFArchitects.com.