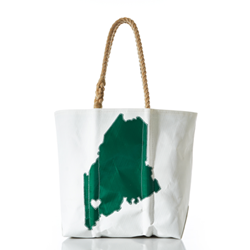 PORTLAND, Maine (PRWEB) April 23, 2019
In celebration of Earth Day, Sea Bags, Poland Spring® Brand 100% Natural Spring Water and Maine Magazine have partnered to encourage people to think innovatively about ways to protect our environment.
The campaign started with a thought around how we can demonstrate the value of recycling and reusing materials to give them life beyond their original purpose.
Poland Spring put this thought to action ten years ago with the creation of sail cloth containing 80 percent recycled plastic bottles. Now, that sail cloth made from plastic bottles will be repurposed into a limited-edition Sea Bags tote. A homage to the home state of these three brands, the exterior of the tote features the Maine state silhouette, while the inside highlights trivia about the Pine Tree State.
All three businesses strive to be more sustainable every day in order to keep their state clean and maintain its natural beauty. They have each placed a continual emphasis on their businesses to think of ways to drive innovative, sustainable solutions to help the earth.
Over twenty years ago, to cut down on materials populating in landfills, Sea Bags sought to find a solution to stop sails from being thrown away and bring back the cut and sew industry in Maine. Since then, the small business has saved over 700 tons of recycled sail cloth material to date and the number continues to grow daily.
Poland Spring wanted to help ensure plastic bottles are recycled and repurposed into something new, with the belief that plastic can be a resource when recycled properly. The brand carefully designs all of its bottles to meet the Association of Plastic Recyclers (APR) standards to be 100% recyclable. It was also one of the first bottled water brands to include "How2Recycle" labels on its bottles, giving people clear instructions on recycling. With its parent company, Nestlé Waters North America, it has invested $6 million in the Closed Loop Fund, a social impact investment fund that finances recycling infrastructure projects and community recycling programs across the U.S.
For Maine Magazine, it was to commit to cutting down waste in publishing practices. In addition to covering environmental topics and promoting environmentalists in Maine as good stewards to our State, Maine Magazine has eliminated the use of polybags in the shipment of individual magazines, cutting down on plastic wrapping by 30,000 units per month.
People can visit http://www.polandspring.com/seabags for a chance to win one of 25 recycled limited-edition tote bags. Submissions close on May 12, 2019, and winners will be selected by May 13, 2019.
*NO PURCHASE NECESSARY. Open to legal residents of the 50 United States (D.C.) 18 years or older. Ends 5/12/19. To enter and for official rules, including odds, and prizes descriptions, visit http://www.polandspring.com/seabags. Void where prohibited.
Check in to Sea Bags, Poland Spring and Maine Magazines websites and social channels to learn more about their campaign and how you can help spread the word on sustainability in the community.
###
About Sea Bags:
Incorporated in 2006, Sea Bags started by making fun, functional and stylish totes from reclaimed sail cloth in the historic Old Port district of Portland, Maine. Today, the company makes a diverse line of totes, bags, and home goods, all featuring material from sails that were once actively used. The extensive use of reclaimed sail cloth is unique to Sea Bags. Signs of hard sailing can be seen in every Sea Bags creation, making them as individual and unique as their owner. To learn more about Sea Bags and the stories their sails tell, go to http://www.seabags.com, visit them at 25 Custom House Wharf in Portland, Maine or at their 23 retail stores in Ogunquit, Freeport, Booth Bay Harbor, Rockland, Camden, Bar Harbor ME, Portsmouth, NH; Newburyport, Rockport, Chatham, Mashpee, and Oak Bluffs, Boston, and Chestnut Hill MA; Newport and Watch Hill RI; Mystic, CT; Greenport, NY; Cape May and Spring Lake NJ; Annapolis, MD; Rehoboth, DE; Vero Beach, FL. Visit us at http://www.seabags.com and on Facebook, Instagram and Twitter.
About Poland Spring® Brand 100% Natural Spring Water
Established in 1845, Poland Spring® Brand 100% Natural Spring Water has been served throughout the Northeast for more than 170 years. Filtered by 10,000-year-old glacial aquifers of Maine, Poland Spring® offers a crisp, refreshing taste. Poland Spring® has no additives, only the naturally occurring electrolytes that provide a crisp, refreshing taste. To learn more, visit: https://www.polandspring.com/.
About Maine Magazine:
From its office in Portland, Maine, State 23 Media publishes Maine and Maine Home+Design magazines and nearly a dozen annual guides, and produces several events, including Cinq á Sept, Shaping Maine, and MH+D Onsite. Maine magazine, which distributes about 25,000 copies each month to subscribers, newsstands across New England, and businesses, tells stories about the people who are using their creativity and ingenuity to propel the state forward. Rich storytelling paired with beautiful photography and design provide a sense of place and celebrate why Maine is so special. Follow along at themainemag.com and on Facebook, Instagram, and Twitter.