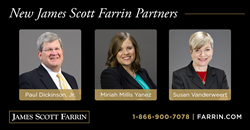 According to firm Founder and President James S. Farrin, "Paul, Miriah, and Susan have been tireless advocates for our clients. I know that they will help lead the firm with that same dedication and care. We're very fortunate to have them on our team."
DURHAM, N.C. (PRWEB) February 02, 2023
The Law Offices of James Scott Farrin added three new partners to begin 2023 in litigation attorney Paul Dickinson, Jr., personal injury attorney Miriah Millis Yanez, and workers' compensation attorney Susan Vanderweert.
The firm recovered more than $185 million in gross for more than 5,000 clients in 2022 and is continuing to grow.*
According to firm Founder and President James S. Farrin, "Paul, Miriah, and Susan have been tireless advocates for our clients. I know that they will help lead the firm with that same dedication and care. We're very fortunate to have them on our team."
Paul Dickinson, Jr.
Paul has practiced for more than 30 years, successfully handling cases in more than a dozen different practice areas.* He has taught at many classes and seminars and earned a Martindale-Hubbell AV Preeminent rating in 2011.* He has handled many large cases in his career, including the famous Blackwater Massacre case in which he represented civilian victims and families of those injured or killed at the hands of private military contractors. He currently works on personal injury and litigation cases and has been named to the 'Super Lawyers' list by "Super Lawyers" Magazine in 2006, from 2016-2020, and for 2023.*
Miriah Millis Yanez
From Social Security Disability to personal injury, Miriah's career is defined by advocating for the injured and the disabled. Since joining James Scott Farrin in 2017, she has exclusively practiced as a personal injury attorney, fighting for clients' best interests and seeking positive outcomes for accident victims. Miriah also oversees the firm's Summer Associate Internship program for law students. She received her J.D. from Duquesne School of Law in 2012.
Susan Vanderweert
Susan joined James Scott Farrin in 2015 handling workers' compensation cases and is a North Carolina State Bar Board Certified Specialist in Workers' Compensation law. She represented employers and insurance companies for 12 years prior to joining the firm and brings that experience and perspective to every case. Susan received an AV Preeminent rating from Martindale-Hubbell for 2022* and has been listed on the "Best Lawyers" 'Best Lawyers in America' list from 2021-2023.*
ABOUT THE LAW OFFICES OF JAMES SCOTT FARRIN
The Law Offices of James Scott Farrin is one of the largest personal injury firms in North Carolina and has helped over 60,000 injured people since 1997. Operating from 16 offices in NC and one in SC, many of the firm's 60+ accomplished attorneys are recognized professionals in their fields. The firm focuses on providing quality legal services to as many people as possible in the following practice areas: personal injury, car accidents, workers' compensation, whistleblowing, defective products, eminent domain, mass torts, class actions, and Social Security Disability.
Contact Information:
David Chamberlin
555 S. Mangum Street
Suite 800
Durham, NC 27701
866-900-7078
https://www.farrin.com
Offices in Durham (main), Raleigh, Charlotte, Greensboro, NC, and Greenville, SC. Attorney J. Gabe Talton: 555 S. Mangum Street, Suite 800, Durham, NC
*Prior results do not guarantee similar outcomes because each case is unique and must be evaluated separately. For information regarding the standards for inclusion in Martindale-Hubbell peer review ratings, visit http://www.martindale.com. For more information about standards for inclusion for the 'Super Lawyers' list, visit http://www.superlawyers.com. For more information regarding the standards for inclusion for 'Best Lawyers,' visit http://www.bestlawyers.com.