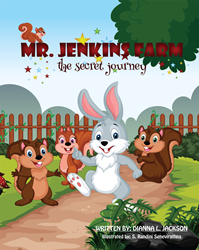 It was a bedtime story that I made up and it became popular with all children.
MCDONOUGH, Ga. (PRWEB) January 02, 2023
Author Dianna L. Jackson delights young readers in MR JENKINS FARM: The Secret Journey ($25.99, paperback, 9781662848926; $9.99, e-book, 9781662848933).
Jackson's delightful story is filled with love, fun, excitement in the form of three special life lessons. Children will excitedly follow the book's main character, Teensy, as this adorable rabbit discovers something special in the forest that he has never encountered before. Readers get a welcoming glimpse into the family, seeing how they bond through cooking cabbage soup and cornbread. The story helps youngsters understand that the three key ingredients to a healthy relationship is love, friendship and selflessness. Jackson's first lesson encourages children to love themselves and others, enforcing that to make friends, one must be a friend to others. She also explains how consideration for others will help one become more service-minded in a self-centered world. Lastly, the story shows how losing a loved one can actually lead a person on a journey of growth, bravery and self-discovery.
When asked what inspired the author to write this book, Jackson said, "It was a bedtime story that I made up and it became popular with all children."
Dianna L. Jackson was born in Springfield, Illinois. Her family moved to Minneapolis, Minnesota where she grew up. She holds a BS degree in Business Administration/Management and a Master's in Business Administration. After giving corporate work a try, Jackson became a full time childcare provider. It's not surprising that she succeeded in this business, as Jackson is the eldest of 11 siblings and has taken care of children most of her life. She is the owner of Go Care Professionals LLC, a mobile child care service that comes to families homes to help care for their little ones. Jackson loves children and helping each child grow and learn new things. She is a New Born Night care specialist who specializes in New born night care, especially with mothers experiencing postpartum. She is known as a passionate, loving and caring person. Be on the lookout for additional books and products from this inspiring author.
###
Xulon Press, a division of Salem Media Group, is the world's largest Christian self-publisher, with more than 15,000 titles published to date. MR JENKINS FARM: The Secret Journey is available online through xulonpress.com/bookstore, amazon.com, and barnesandnoble.com.