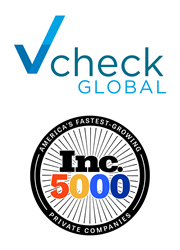 LOS ANGELES (PRWEB) August 14, 2020
Vcheck Global is excited to announce its inclusion among the Inc. 5000 fastest-growing companies for the third year in a row.
"We are grateful to our clients for propelling Vcheck Global's success in 2019 and further supporting continued growth in 2020 despite public health and economic challenges across the U.S.," said Julie Peck, CEO of Vcheck Global. "It is an honor to lead such a steadfast, exceptional team of executives, investigators, and client relationship managers whose commitment to our mission is stronger than ever."
Vcheck Global strives to innovate with fresh ideas and creative ways to serve its clients, including the recent launch of its Diligence Refresh Program, which automates analysis of subject portfolios on a quarterly, semi-annual, or annual basis at substantially reduced cost. Vcheck Global plans to unveil more exciting announcements throughout the rest of 2020.
To view the complete Inc. 5000 list, including Vcheck Global's company profile, visit https://www.inc.com/inc5000.
About Vcheck Global
As a leading provider of due diligence background investigations, Vcheck Global protects the reputations and investments of companies around the world. Now named to the Inc. 5000 list of fastest-growing companies in America three years in a row, Vcheck Global and its growing team of accomplished investigators, subject-matter experts, in-house linguists, and client relationship associates can accommodate a variety of client needs and priorities with easily customized scopes and international service coverage.