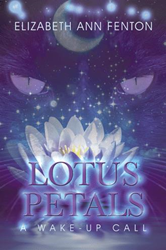 HILO, Hawaii (PRWEB) April 04, 2019
Author Elizabeth Ann Fenton takes readers on a multidimensional journey along three timelines of reality where a catalyst event threatens to destroy Hawaii. The first book of a trilogy, "Lotus Petals: A Wake-up Call" (published by Balboa Press) is a novel about consciousness waking up to the realization that every human's awareness of the well-being of society is crucial to humanity's survival as a species. It is also an activation of spirit to become more curious about "Divine origins" and relation to God and each other through the "Law of One." The book is a science fiction story told in a way to inspire imagining a new Earth, which thrives in an era of peace.
The story begins just before a nuclear missile strikes down in Honolulu. Davis, a middle-aged survivalist, begrudgingly allows Lotus, a teenager who lives next door to him, to share his tiny concrete bunker with him and his black cat, Merlin. Davis and Lotus make unlikely roommates — one believing that the world is ending, while the other espouses the dawning of a new era of peace. They tolerate each other curiously while the house cat, Merlin, brings magic into the bunker. Merlin is the conduit linking Davis and Lotus' family together through psychic connection and the ability to "trilocate" into three timelines.
The metaphysical exploration of the novel is hoped to draw attention from people who are now "awakening to their Spirit," as well as those who are interested in discussing the current realities around the threat of nuclear war. Ultimately, Fenton encourages the readers to take an active role in waking their consciousness to the importance of denuclearization and the significance of being balanced spiritual human beings.
To purchase and to know more about the book, interested parties may visit https://www.balboapress.com/en/bookstore/bookdetails/789823-lotus-petals.
"Lotus Petals: A Wake-up Call"
By Elizabeth Ann Fenton
Hardcover | 6x9 in | 138 pages | ISBN 9781982222918
Softcover | 6x9 in | 138 pages | ISBN 9781982222895
E-Book | 138 pages | ISBN 9781982222901
Available at Amazon and Barnes & Noble
About the Author
Elizabeth Ann Fenton currently resides in Hawaii on the Big Island with her dog Taz, cats Merlin and Toby and a parrot named Bella. Fenton is a certified yoga teacher, reiki master teacher, licensed massage therapist and certified Star Magic™ facilitator. Fenton experienced a dramatic shift in the Earth and her personal life after a 6.9 earthquake that was followed by thousands of smaller aftershocks and a volcanic eruption of Kilauea, just down the road from her forest home. Fenton has a Bachelor of Arts degree from Hampshire College in Amherst, Massachusetts, where she first learned the art of writing fiction and poetry. "Lotus Petals" is Fenton's second novel and the first of a trilogy.