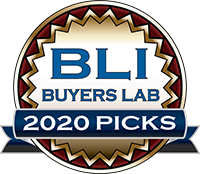 FAIRFIELD, N.J. (PRWEB) July 15, 2020
Keypoint Intelligence - Buyers Lab (BLI), the world's leading independent provider of testing services and analytical information to the document imaging industry, today announced its Summer 2020 Pick award recipients in the Scanner category, with the accolades going to stellar devices from Canon, Fujitsu, and Panasonic. Awarded twice annually for office equipment, Picks acknowledge the products that gave the best performances in Buyers Lab's extensive suite of lab tests in the previous six months.
The BLI Summer 2020 Scanner Pick awards go to the following exceptional devices*:
Canon imageFORMULA DR-S150
Outstanding Workgroup Scanner
Fujitsu fi-7900
Outstanding Mid-Volume Production Scanner
Panasonic KV-S5078Y
Outstanding Light-Production Scanner
*Not all products are sold in all regions.
CANON EXTENDS AUTOMATION TO WORKGROUP
"The Canon imageFORMULA DR-S150 is the perfect solution for integrating paper-based information into digital workflows," said Lee Davis, Associate Director of Software/ Scanners at Keypoint Intelligence. "Users can create and save up to 99 single-touch scanning profiles—complete with image enhancement, data extraction, file naming, and routing settings—to streamline and standardize frequently recurring scanning chores, like AP processing or adding patient information to an EHR system."
FUJITSU MARRIES FAST SPEEDS AND AUTOMATION TO ACCELERATE BUSINESS PROCESSES
"The Fujitsu fi-7900 helps businesses centralize document digitization with one machine, including eliminating or automating certain tasks such as data extraction, file naming, and routing," Davis said. "The Automatic Profile Selection tool automatically applies document processing settings for a given document based on its content. The device accommodates a wide range of documents, even if they're mixed together, and its media-handling capabilities ensure reliable throughput—in fact, the Fujitsu fi-7900 scanned over half a million pages without a single misfeed."
PANASONIC DELIVERS LOW-COST, PC-LESS LIGHT-PRODUCTION SCANNING
"The Panasonic KV-S5078Y offers the same scan speeds, ADF capacity, daily duty cycle, and roller life of a low-volume production workhorse for the price of a departmental scanner," Davis said. "The device doesn't require a PC for operation, which you don't see in the light-production space and it excelled during OCR accuracy and file-size testing. What's more, the Panasonic KV-S5078Y has a wide range of workflow automation features to ensure business processes are fast and efficient."
ABOUT KEYPOINT INTELLIGENCE - BUYERS LAB
Keypoint Intelligence is a one-stop shop for the digital imaging industry. With our unparalleled services and unmatched depth of knowledge, we cut through the noise of data to offer clients the independent insights and responsive tools they need in those mission-critical moments that define their products and empower their sales.
For over 50 years, Buyers Lab has been the global document imaging industry's resource for unbiased and reliable information, test data, and competitive selling tools. What started out as a consumer-based publication about office equipment has become an all-encompassing industry resource. Buyers Lab evolves in tandem with the ever-changing landscape of document imaging solutions, constantly updating our methods, expanding our offerings, and tracking cutting-edge developments.
ABOUT BUYERS LAB PICK AWARDS
Buyers Lab Picks stand alone in the industry and are hard-earned awards as they are based on rigorous testing, including an extensive durability assessment and evaluation of key attributes such as usability, image quality, and value. Each product that passes our lab test earns Buyers Lab's Recommended or Highly Recommended seal and our Certificate of Reliability, with the best performers qualifying as Pick contenders.
SOCIAL MEDIA
Connect with Keypoint Intelligence on LinkedIn
Follow Keypoint Intelligence on Twitter
CONTACT
Deanna Flanick
+1 973-797-2145
deanna.flanick@keypointintelligence.com