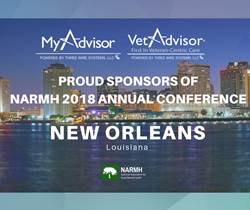 We are proud of the work and continued commitment Jennifer and the VetAdvisor® / MyAdvisor team make to rural wellness and community inclusion for veterans and their families.
FAIRFAX, Va. (PRWEB) August 23, 2018
The VetAdvisor® and MyAdvisor Programs within Three Wire Systems, LLC (Three Wire) are sponsoring the 2018 National Association for Rural Mental Health (NARMH) 44th Annual Conference. Three Wire's VetAdvisor® and MyAdvisor Programs work to bridge the gap in much needed services in rural communities for service members, veterans, their families, caregivers, teachers, and uniformed personnel to include emergency responders, police officers, and firefighters. With a focus on rural mental health, Three Wire shares a valuable resource with NARMH, their own Jennifer Christman, Executive Vice President of VetAdvisor® and President for NARMH.
The 44th NARMH Conference will be held at the Astor Crowne Plaza in New Orleans from August 23-26, 2018. This year's theme is "Rural Resilience," with a mission to link the communities shared voice to promote rural mental health. Rural communities face limited access to personal care and support based on geographical location and physical mobility. The conference provides educational sessions that embrace the resilience of rural groups and the industry leaders that help them regain purpose, strength, and respect in the community.
Christman, together with Rick Peterson, Associate Professor at Texas A&M University, will co-present: "Reaching Beyond the Classroom," at the 44th Annual Conference. This collection of mental health, wellness, and education programs are designed to benefit rural communities. Christman and Peterson will share tips and techniques used in the successful outreach program called Battleground to Breaking Ground where community members in need are provided skill training and a path to ranch ownership.
With almost two decades of experience implementing military and Veteran programs, Christman is recognized nationally for her work with rural mental health care for uniformed personnel. During her tenure with Three Wire, she has provided direction and oversight for over two million Veteran contacts with over 250,000 coaching sessions. Christman, the current President of NARMH, has also served on the Board of Directors for NARMH and the Saint Francis University Social Work Advisory Board.
"We are proud of the work and continued commitment Jennifer and the VetAdvisor® / MyAdvisor team make to rural wellness and community inclusion for veterans and their families. Her collaboration with agencies, organizations, and federal and state leaders are a testament to her dedication to those she serves in the military community. Her presentation will be well worth everyone's time who attends," says Dan Frank, Three Wire CEO.
For more information on the NARMH conference, visit the official website: http://www.narmh.org/
About Three Wire Systems
Founded in 2006, Three Wire is the trusted source for government agencies and military organizations looking to modernize with innovative and efficient technology solutions. Part of the Three Wire Health and Human Solutions offering, the VetAdvisor® Program provides proactive, one-on-one services to veterans and their families. As the nation's expert in veteran-centric holistic care, VetAdvisor® resources help corporations recruit and retain valuable military veteran and service member personnel at a low health care cost.
About VetAdvisor® / MyAdvisor
VetAdvisor® / MyAdvisor is the nation's expert in integrative care for veterans and uniformed personnel who are responsible for the safety and welfare of others. Our proactive coaches train clients in behavioral health, wellness, financial, and provide support through all aspects of life. In addition, the VetAdvisor® staff works with organizations to hire, train, and interface more effectively with veterans and their families. In a partnership with Texas A&M's, VetAdvisor® designed Battleground to Breaking Ground: a veteran's path to rural ranch or farm ownership.
About National Association for Rural Mental Health (NARMH)
As a national organization, the NARMH is a forum for rural mental health professionals, advocates, and consumers to identify issues, share solutions, and speak a shared voice on issues of rural mental health. The annual NARMH conference strives to increases knowledge related to rural mental health while it connects a voice to national and state policy makers. This collaborative environment provides education, development, and advocacy to rural and remote populations. The NARMH carries out their mission by way of the annual national conference and other traditional forms of communication throughout the year.