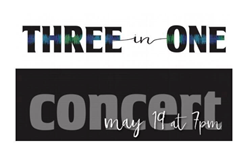 "..a mesmerizing performance by an artist who both totally understands the composer's magical world, and also possesses the virtuosity to present it to us." American Composer, John Corigliano
Fort Dodge, Iowa (PRWEB) May 09, 2017
First Presbyterian Church will host the upcoming Three in One concert on May 19th at their 1111 5th Avenue North, Fort Dodge, Iowa location starting at 7:00 pm. The concert will feature pianist Richard Steinback, Gabriel Alve's Jazz Trio, First Presbyterian Church Choir, Youth A Capella Group and other local musicians.
An evening of entertainment will benefit the upcoming California mission trip that several First Presbyterian Church members will be participating in. All proceeds from the evening will be directed to the travel, meal and other expenses the members will need to cover for their mission.
Pianist Richard Steinbach performed his solo debut recital at Carnegie Hall in New York on June 12, 2015. Steinbach's Carnegie Hall debut featured the premiere of his seventh CD titled FUSION: New Music for a New Age, and was the culminating event for the international "Fusion Project" that Steinbach launched in 2013. The Fusion Project featured an extensive concert tour of South America and Latin America with master piano classes for students. Dr. Steinbach has performed extensively as both soloist and collaborative artist in concerts throughout the United States, Canada, France, Italy, Great Britain, South America (Argentina, Brazil, Colombia, Ecuador, Peru), Honduras, Mexico, Cuba, New Zealand, Australia, Jamaica, South Korea, Japan and The People's Republic of China. As the grand prizewinner in the France Piano International Competition, he performed his solo debut recital at the Salle Cortot in Paris in January 1996.
Dr. Steinbach is currently a Professor of Music at Briar Cliff University, Sioux City, Iowa. In July, 2016, he was appointed the "M. A. Martin Everist Foundation Artist-in-Residence" at the university. He holds degrees in piano performance from the University of Colorado, the Eastman School of Music, and the Doctorate of Musical Arts from the University of Iowa. Post-doctoral work includes study and master classes with Dominique Merlet, Noel Lee, Roy Howat, Pascal Devoyon, Dorothy Taubman and John Bloomfield. http://www.RichardSteinbachPiano.com
"…a mesmerizing performance by an artist who both totally understands the composer's magical world, and also possesses the virtuosity to present it to us. Any composer—myself included—would be privileged by an interpretation as intelligent and powerful as Mr. Steinbach's." —American Composer, John Corigliano
Tickets for the evening will be available at First Presbyterian Church, Hy-Vee and after services each Sunday. Ticket costs are Adult tickets for $20.00 and Student / Children for $5.00. Childcare with activities will be provided for ages 10 and under for $5.00.
First Presbyterian Church is located at 1111 5th Avenue North, Fort Dodge, IA. Sunday services include a Traditional Service 8:45 am in the Sanctuary and a Contemporary Service 11:00 am in the Christian Life Center with additional special services throughout the year. Additional information is available by calling 515-576-2091 and visiting http://fpcfd.org/. Everyone is also invited to follow along on Facebook, Twitter and Vimeo.