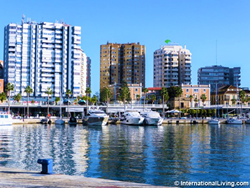 Panama is outside the hurricane belt and while we can see periods of high heat and humidity, the average temperature on the coast is about 88F during the day and 78F at night—breezy yet warm.
Baltimore, MD. (PRWEB) September 19, 2017
San Miguel de Allende, Mexico
"There are lots of reasons San Miguel de Allende, Mexico tops so many travel-magazine 'must visit' lists—from its beauty and charm to the warmth of the people," says IL Senior Editor, Suzan Haskins.
"It helps, of course, that San Miguel sits in this perfect little vortex where you can enjoy a really delightful climate…never too hot or too cold. And as those who live there will tell you, there's no fear of hurricanes, earthquakes, tsunamis, tornadoes, and certainly not snowstorms. It doesn't get much better."
Because San Miguel is in the Colonial Highlands, the air is crisp and clean, further enticing U.S. citizens. The climate is temperate year-round, staying in the 70s F most days and cooling down at night to the 50s F. Only in January and February do temperatures get cooler.
Expats make up about 10% of the town's 70,000 residents. These days, the population swells during the North American winter, when Canadian, American, and European "snowbirds" flock to town for the great climate and sophisticated cultural diversions.
San Miguel, founded in 1541, boasts a colorful, well-restored historic center that looks much as it did 250 years ago. In 2008, San Miguel was declared a UNESCO World Heritage City, in fact.
Its colonial centro is a massive draw, but that appeal goes hand in hand with a low cost of living, a great focus on the arts—the city attracts world-class writers, artists, and musicians—and, of course, mild weather year-round.
Coronado, Panama
Coronado, a popular beach town on Panama's Pacific, is on the Arco Seco or 'Dry Arch' stretch of coastline, so named because of the remarkably low rainfall it receives, which makes for good beach weather year-round.
Long a sun-soaked getaway for Panamanians, Coronado has, in recent years, attracted increasing numbers of expats and North American tourists.
"Panama is in the tropics, which means it's humid and has an extended wet or 'green' season," says IL Panama Editor, Jessica Ramesch. "But in Arco Seco or 'Dry Arc' areas, towns like Coronado and Pedasi are sunny most of the year.
"Even during the green season, mornings tend to be sunny with an hour or two of showers in the afternoon—extreme temperatures and weather are practically unheard of here.
"Plus Panama is outside the hurricane belt and while we can see periods of high heat and humidity, the average temperature on the coast is about 88F during the day and 78F at night—breezy yet warm. It's perfect for me and the many other expats that live here."
Located just an hour from Panama City, Coronado is a white-and-black sand beach where the water is an azure blue and pleasantly warm all year round.
Málaga, Spain
Located on Spain's popular Costa del Sol, the 2,800-year-old city of Málaga (one of the oldest in the world) is clean and bright, with a pedestrian-only city center and a revamped harbor. The city is brimming with museums, great dining, and plenty of shopping to suit all tastes and budgets.
But best of all, its subtropical-Mediterranean climate delivers very mild winters, hot summers, and an average of about 300 days of sunshine a year.
"The sun shines, there are miles of seaside, winter temperatures are balmy (days average 63 F in January), and sea breezes blow off the Mediterranean, cooling the hot summer days," says IL Senior Editor, Glynna Prentice.
Málaga sits about midway along the Costa del Sol. Sixty years or so ago, this long stretch of Mediterranean coastline was home only to fishing villages. Today it's one of the most popular beach destinations in Europe, and the quaint villages have become resorts of varying degrees of sophistication. "Málaga is cheerful and vibrant, oozing its trademark Andalusian charm," says Prentice.
Editor's Note: Members of the media have permission to republish the article linked above once credit is given to InternationalLiving.com.
Further information, as well as interviews with expert authors for radio, TV or print, is available on request. Photos are also available.
For information about InternationalLiving.com content republishing, source material or to book an interview with one of our experts, contact PR Managing Editor, Marita Kelly, +001 667 312 3532, mkelly@internationalliving.com
Twitter: @inliving
Facebook: https://www.facebook.com/International.Living/
About International Living
For 37 years, InternationalLiving.com has been the leading authority for anyone looking for global retirement or relocation opportunities. Through its monthly magazine and related e-letters, extensive website, podcasts, online bookstore, and events held around the world, InternationalLiving.com provides information and services to help its readers live better, travel farther, have more fun, save more money, and find better business opportunities when they expand their world beyond their own shores. InternationalLiving.com has more than 200 correspondents traveling the globe, investigating the best opportunities for travel, retirement, real estate, and investment.