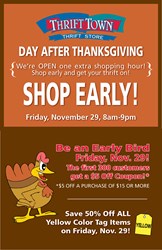 With over 4,000 items arriving daily, Holiday shopping at Thrift Town is like unwrapping a gift every day!~ Wendy Steinmetz, Vice President, Thrift Town Stores.
Roseville, CA (PRWEB) November 27, 2013
Decking the halls this holiday season doesn't have to cost a fortune. Thrifty entertaining is quickly becoming a trend for many reasons. Not only is it easy on the pocketbook, it's good for the environment, benefits local charities, and the finished look is beautiful and unique. Below, Thrift Town provides a few quick and easy tips guaranteed to wow guests and thrift critics alike.
1. Putting battery operated lights into clear or crystal vases, decanters, or jars are a great way to provide additional light and add a classy, festive vibe to holiday décor.
2. Don't just put stemware on a silver tray and pass it around the party for people to take drinks off of, jazz it up by filling the tray with brightly colored ornament balls as shown in the accompanying photo.
3. Bring life to a holiday buffet table by using bright and festive flat bed sheets as tablecloths. Traditional tablecloths are usually conservative by design, whereas bed sheets come in a wide variety of colors and patterns, and are inexpensive at thrift stores.
4. Create holiday food displays by stacking candlesticks and colorful plates making multi tiered platters.
5. Don't throw away burnt-out outdoor holiday light bulbs. Roll them in glitter and put them into a clear vase making a cute, free, and earth friendly display.
6. Wreaths don't just have to be hung on doors; flip one on its back and create a beautiful centerpiece. Place a large candlestick in the center and voilà, beautiful and unique.
7. String ornaments together using floral wire. Bags of ornaments can be picked up at Thrift Town for around $0.49 each.
To see the above tips come to life and for more inspirational décor and gift ideas, check out Thrifty Town's Thrifty Thursday's holiday décor segments live on CW31 Good Day Sacramento, peruse our many thrifty cool Pinterest boards at Pinterest/pinthrifttown, or visit http://www.thrifttown.com.
"Whether you're looking to win the ugliest Christmas sweater contest, find a unique gift item or add a little Holiday cheer to your home, Thrift Town has you covered. Our stores are brimming with seasonal décor ideas, festive holiday attire, one-of-a kind treasures and yes we've been known to have the ugliest Christmas sweaters in town! With over 4,000 items arriving daily, Holiday shopping at Thrift Town is like unwrapping a gift every day!" ~ Wendy Steinmetz, Vice President, Thrift Town Stores.
Thrift Town actively encourages consumers to reuse and recycle as much as possible and runs quarterly and seasonal online contests, such as their current Ugly Christmas Sweater Contest. For more information on Thrift Town Stores, or to connect socially, please visit ThriftTown.com or find them on Facebook/Thrifttown, Twitter and Instagram at #thrifttown, or on Tumblr, YouTube, and Pinterest. Thrift Town also has a robust VIP customer rewards program that offers special coupons, events, and contest. Click here to sign up today and receive an instant $5 off coupon, and be automatically entered to win a year's worth of free thrift shopping!
Thrift Town opens its doors one hour early on Black Friday, November 29th at 8am, and will stay open until 9pm. The first 300 customers will receive a special $5 off a purchase of $15 or more coupon. Coupons cannot be used to purchase gift cards. Speaking of which; give the gift of thrift this holiday season. Gift cards make great stocking stuffers, and are available for purchase either in store, or online at thrifttown.com.
Thrift Town has 14 award winning store locations in three western states and lives its vision statement of being committed to making a difference every day, by helping raise over $250 million dollars for their charity partners. Thrift Town's clean, bright, and organized stores put out 4,000 gently used products to each store location daily, setting them apart in the thrift world as the premier thrift destination. Thrift Town is owned and operated by Norquist Salvage Corporation, which has spent over four decades dedicated to socially responsible recycling.