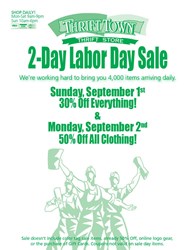 Thrift Town is not your tame little vintage boutique, it's a massive beast of a thrift store with a huge selection, and dizzingly low prices. - SF Bay Guardian
Roseville, CA (PRWEB) August 30, 2013
Thrift Town is hosting their annual 2-Day Labor Day sale just in time to stock up on fall fashions. Stop in to any of Thrift Town's 14 store locations on Sunday, September 1st to receive an additional 30% off their already incredibly low prices store-wide. On Monday, September 2nd, all clothing will be an additional 50% off.
According to well known fashion bloggers and thrift fashionistas, hot fall fashion trends can be easily replicated using thrifted items this season. Things like colorful blazers, leather, animal print scarves, low boots, distressed denim, cropped pants, jacket layering and more can easily be found at Thrift Town. With Thrift Town organizing their stores by color, size, and type, it's very easy to locate all of fall's most popular colors this season; red, gray, hot pink, black and white. Get a glimpse at one of fall's hottest fashion trends in this edition of Thrift Town's Thrifty Teen Styles blog post by Bridget and Jess.
Thrift Town has 14 stores in three different states which are open Monday-Saturday 9am-9pm, and on Sunday from 10am-6pm, and is not your average little thrift store. According to the San Francisco Bay Guardian, "Thrift Town is not your tame little vintage boutique, it's a massive beast of a thrift store with a huge selection, and dizzingly low prices."
Thrift Town is social and welcomes the opportunity to engage with customers online via Facebook/ThriftTown, Pinterest/PinThriftTown, Twitter, Tubmlr, and Instagram @ThriftTown or #ThriftTown, and even has a free app that can be found in the Apple App Store. Thrift Town's robust customer rewards program, dedicated weekly blog, and amazing consumer contests raise awareness to the benefits of thrift in a fun and enriching environment. Thrift Town lives its vision statement of being committed to making a difference every day, and is proud to have raised more than $250 million dollars for their charity partners. Each of their clean, bright, and organized stores puts out 4,000 gently used products daily, setting them apart in the thrift world as the premier thrift destination. Thrift Town is owned and operated by Norquist Salvage Corporation, which has spent over four decades dedicated to socially responsible recycling.