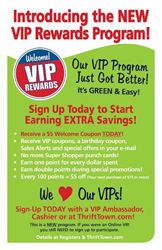 Our VIP program offers so many unique ways for us to value our customers on a on-going basis, and it feels so great to give back to the people that make Thrift Town come to life every day. ~Wendy Steinmetz, VP of Marketing, Thrift Town Stores
Roseville, CA (PRWEB) May 09, 2014
Thrift Town's VIP program just got better. Thrift Town is launching a completely new, green, and easy VIP Rewards program in all 14-store locations. This program will take the place of the former VIP program and Super Shopper punch cards.
With the launch of the new program, customers will find that it pays, literally, to be a VIP at Thrift Town. The new program allows VIP Rewards customers to earn one point for every dollar spent, and earn double points during special promotions. Every 100 points earned equals $5 off their next purchase of $15 or more.
Thrift Town's new VIP Rewards program is 100% electronic, which falls directly in line with Thrift Town's history of being a socially responsible recycling business for over 42-years. The new green program does away with having to print hundreds of thousands of Super Shopper cards, and keeps track of all VIP Rewards data online. Thrift Town VIP Rewards customers can look up their earnings online. During checkout, the customer simply provides the cashier their 10-digit code which ensures their purchases are being recorded into their VIP Rewards account. Once a reward has been reached, the $5 off coupon will automatically be applied to their next purchase of $15 or more. It's that easy.
Click here to enroll in Thrift Town's VIP Rewards Program, and receive a $5 off coupon just for joining. If you prefer to sign up in one of our award winning stores, simply ask the cashier for more information or seek out an in-store VIP Ambassador.
Other benefits of joining Thrift Town's free VIP program includes being automatically entered to win quarterly appreciation giveaways, exclusive savings and birthday coupons, newsletters, and sale alerts conveniently delivered right to VIP Rewards' customer in-boxes. Thrift Town also hosts and awards prizes for quarterly and seasonal promotions that encourage customer and community participation such as monthly hashtag #thrifttown social media contest, annual Best Dressed at the Prom, Ugly Holiday Sweater, and HallowGreen contests. The next VIP Giveaway will take place August 31st, where one lucky winner will walk away with a new iPad, in addition to a $100 Thrift Town gift card.
Co-Owner, and VP of Marketing Wendy Steinmetz had this to say regarding Thrift Town's VIP's; "our VIPS are like family, and we absolutely love to reward them for their passion of thrift and their loyalty to Thrift Town. Our VIP program offers so many unique ways for us to value our customers on a on-going basis, and it feels so great to give back to the people that make Thrift Town come to life every day."
Thrift Town is still honoring customer's Super Shopper cards for a short window of time, and depending on store location. Super Shopper cards that currently have 1-14 punches earn $5 off a purchase of $10 or more, and cards with 15-20 punches earn the full $10 off a purchase of $20 or more.
Thrift Town lives it's vision statement of being committed to making a difference every day, and has raised over $250,000,000 for their charity partners. Thrift Town's award winning clean, bright, and organized stores put out 4,000 gently used products daily, setting them apart in the thrift world as the premier thrift destination. Thrift Town is owned and operated by Norquist Salvage Corporation.