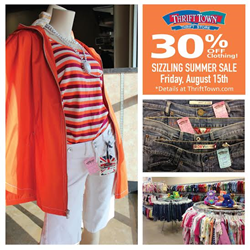 Because of Thrift Town, my children were able to do more because we were able to save so much money on clothing. ~Kammurah K., Thrift Town Customer, San Francisco, CA
Roseville, CA (PRWEB) August 14, 2014
There's still time to stock up on summer fashion at Thrift Town's Sizzling Summer Sale. Stop in any of Thrift Town's 14-store locations on Friday, August 15th to receive an additional 30% off their already incredibly low prices on clothing.
Well known thrift bloggers and everyday fashionistas have touted award winning Thrift Town as having the best thrift stores around for years and blog about their finds frequently. Thrift Town's very own thrift fashionista Kari Shipman, and popular thrift fashion blogger The Dress Fiend post about their Thrift Town finds weekly on Thrift Town's popular blog. Check out their latest fashion posts, and get the latest on summer fashion tips and styles by clicking here. There's something for everyone on Thrift Town's robust blog. Topics range from DIY, fashion, home decor, style and have specific bloggers who focus on the teen and tween realm as well as dedicated bloggers who cover the Thrifty-Over-50 crowd as well.
In addition to annual and holiday sales, Thrift Town offers deep discounts every week. For example, every Monday, senior citizens (who are 60+ years young) receive 30% off all clothing items, and Thrift Town is famous for their rotating tag sale, where each week a different color tag is 50% off. Thrift Town also offers additional coupons and giveaways to anyone who joins their new and improved VIP Rewards program. Get connected via Thrift Town's website, or other social media outlets such as Facebook, Twitter, Instagram, Youtube, Yelp and Pinterest. There's even a free Thrift Town app that can be downloaded from both the Apple App Store, or Google Play.
Thrift Town has 14 store locations in three western states and lives its vision statement of being committed to making a difference every day, by helping raise over $250 million dollars for their charity partners. Each of Thrift Town's award winning clean, bright, and organized stores put out 4,000 gently used products daily, setting them apart in the thrift world as the premier thrift destination. Thrift Town is owned and operated by Norquist Salvage Corporation, which has spend four decades dedicated to socially responsible recycling, and keeps on average over 40-billion pounds of usable goods out of landfills annually.