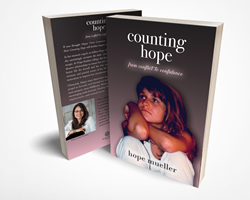 "Three words: perseverance, perseverance, perseverance. Hope Mueller shares a story that is both horrifying and inspiring." —Susan Chambers
RINGWOOD, Ill. (PRWEB) August 25, 2020
In Counting Hope, we follow Hope Mueller's journey as she unwittingly recreates the dark, chaotic world she was attempting to escape. Digging herself out of drug addiction and abusive relationships, Hope charges forward to build a better life for herself and her two daughters, discovering her true worth along the way.
"A gripping, sometimes brutal, but ultimately empowering read. Mueller is unflinching as she takes us on a roller-coaster ride of domestic abuse and addiction interspersed with amazing personal and professional success stories. Her account is alternately heavy then uplifting, raw then inspiring. Counting Hope is required reading for anyone who has ever felt trapped in a bad situation or struggled to overcome past mistakes. Mueller proves that once you truly believe in your own worth, anything is possible."
—Jennifer Bushey, Technical Specialist
Hope illustrates how small, daily steps propel us forward towards fulfillment, even during our darkest hours. Counting Hope is an epic journey of liberation, empowerment, and eventual success.
Celebrate Counting Hope on a virtual book launch event at noon EST September 1 (Join at https://www.facebook.com/events/313548529957558/)!
Hope Mueller is an author, inspiring speaker, pharmaceutical executive, wife, mom, and grandma. Hope is the founder and president of Hunter Street Charity and is an active not-for-profit volunteer. She is passionate about community service, female empowerment, and career development. Hope's unique childhood gave her the gift of being able to create order out of chaos. She lives with her husband and shares her life with her four daughters and grandson. Ten percent of all proceeds from sales will be donated to Hunter Street Charity.