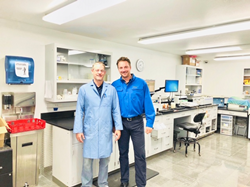 RMB has been a hidden gem in the water testing space.
DETROIT LAKES, Minn. (PRWEB) September 16, 2020
RMB Environmental Laboratories Inc., a Minnesota-based privately owned analytical laboratory, announced today that it has earned state accreditation as a full-service organic water testing provider.
"The organics certification opens up a lot of doors," said Robert Borash, RMB's founder and CEO. "It provides our clients the opportunity to use more of our capabilities, instead of using multiple companies to meet their needs." Parameters that RMB is certified for include metals, wet chemistry, inorganics, volatile organic compounds (VOCs), semi-volatile organic compounds (SVOCs), and waste characterization methods. Sample matrices that RMB is NELAP-accredited for include potable water (drinking water), non-potable water (groundwater, wastewater, surface water), solid (soil, sediment, wipes), and hazardous waste.
Borash said RMB can test water from nearly every source as well as provide on-site monitoring, consulting and data-management for clients ranging from municipalities to Minnesota's most prominent corporate giants to lake associations to private property owners.
"Everything from household safe drinking water, surface water assessments, to industrial and hazardous waste characterization can now be even more supported by RMB's expanded network of state certified laboratories," he said.
Seasoned entrepreneur Zach Lamppa, RMB Board Member said, "Our client list is growing as people find out about the quality of RMB Environmental Laboratories. "RMB in ways has been a hidden gem in the water testing space with the previous growth coming only from word of mouth. This company really stands out from our competition and it's exciting to see our expansion onto the Iron Range and the metro. Bob and the team at RMB are brilliant and have achieved a stellar reputation within the industry. I'm honored to be a part of the long-term growth and success as we expand into new markets and geography."
While Borash's expertise is vital for the work being done at RMB's labs around the state and elsewhere in the region, Lamppa's business acumen is the engine behind much of the company's vision and growth.
"There is only so much my crew and I can do," Borash said. "Zach brought the horsepower to the business growth and development, and the networking side of our business. He's taken a previous company in its infancy from 2 people to over 400 employees in a matter of a few years. It's kind of a yin and yang relationship here. We don't duplicate each other in our strong suits."
A nonprofit based in Grand Rapids that works to protect roughly 1,000 lakes in Itasca County has been partnering with RMB for many years and credits the company with helping in its clean-water mission.
"It's been really good to work with RMB," said David Lick, president of Itasca Waters. "Bob Borash and his team understands advocacy, and they understand that citizens are key to maintaining water quality. We are sitting on some of the most wonderful water in the world, and it's imperative that we keep our thumb on it."
Lick is especially impressed with RMB's ability to collect testing data from many locations and getting it into the right hands.
"Back in 1986, we struggled with always having the data reported to where it needed to go," he said. "Now that we work with RMB, their experts send it to the Minnesota Pollution Control Agency so everybody can see that data, and that's important to protecting water quality."
A bank executive in Grand Rapids routinely turns to RMB for water testing requirements when locking up mortgages for homes and other properties in the region.
"RMB is a good third-party participant that expedites everything you need, and they know what needs to be done," said Chris Henrichsen, executive vice president of mortgage lending a Woodland Bank. "Having them close geographically definitely makes it easier. And they've enhanced their data formats to make them easier to read and note that the water being tested meets the minimum regulatory requirements."
Borash said environmental testing is an ever evolving and growing industry, and RMB is responding to its clients' needs as quickly as possible.
"Keeping up with the demand for our services is never going to stop," Borash said. "The sky is the limit right now. It's really positioning us to be the leader in the industry."
Attention Editors and Reporters:
All RMB Industry experts and newsmakers highlighted in this press release are available for interviews. To make coordinating and schedule easy and hassle-free contact RMB Publicist Robb Leer at Robbl@leercommunication.com or 612.701.0608
About RMB Environmental Laboratories:
A Minnesota-based privately-owned analytical laboratory, RMB provides an array of services to environmental professionals and enthusiasts within the private and public sectors of Minnesota. RMB's services include, state certified analytical testing, on-site monitoring, Taxonomy, Courier services and in-depth customer support. RMB headquarters is located in Detroit Lakes, MN, with additional state certified laboratories in Hibbing, MN and Bloomington, MN. RMB continues to grow and meet the needs of its clients throughout the Tri-State area. For more information please visit http://www.rmbel.info or reach customer service at 888-200-5770. You can also connect via email Robert.borash@rmbel.info or Zach.lamppa@rmbel.info