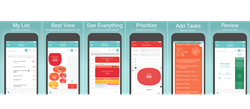 "I love its flexibility, its ability to sync with my calendar, and its 'motivational' approach through assigning points for productivity." -MoFood, Arena user
KNOXVILLE, Tenn. (PRWEB) August 08, 2019
This week, Thrivner, Inc. releases Version 2.0 of The Arena App: Project Planner, available for download in the App Store for iPhone and iPad. The latest version of The Arena App allows you to visually schedule, reschedule, and view your projects 7 days in advance. You choose how important a project is, what effort it will take, what impact it will have, and how it breaks down into smaller steps. This personalized approach—combined with the compelling and informative visual display—makes this app more effective than other software, paper planners, and, yes, even the ever-popular sticky note!
By personalizing the urgency, effort, and impact you're able to simply see the complexity of your commitments while effortlessly keeping them. For people who get things done, handling the complexity in advance distributes the work and reveals the overlapping effort and deadlines in time to make new choices. Other features in this release include an updated list view; easy data import/export; and visual displays of upcoming commitments and deadlines. Version 2.0 of The Arena App: Project Planner with the 7-day outlook, list view, and project data import/export will be available this week, in the App Store. More information is available on The Arena App's Twitter, Instagram, and Facebook profiles.
In The Arena App, find the simple view of your complex life.
About Thrivner, Inc.
Dori Stiefel and Emily Wallace, co-creators of The Arena App and co-owners of Thrivner, Inc., know all about the importance of time management and productivity. Balancing clients in both government and industry alongside volunteer commitments and family life, the two needed a way to keep track of it all. Existing software was insufficient: There were big project management apps and there were calendar apps, but there were no apps that captured, much less simplified, the complexity of their real lives. The Arena App was created as a way to combine project planning, task management, prioritization, time blocking, productivity, and visualization to be in control of each day.
In that spirit, the name The Arena App was inspired by the Theodore Roosevelt quote about being "in the arena." The software embodies what it means to be in the arena: Working through your commitments, no matter what; doing what matters most every day; and knowing that at the end of the day, you've done your best.
At Thrivner, we leverage extensive experience to create a world in which everyone thrives. Our mission is to spread solutions to everyone making a difference via innovative and transformative services and products.