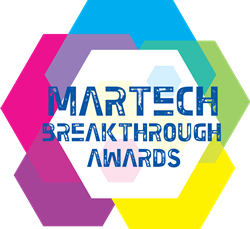 "As a champion of small businesses across America, Thryv is committed to empowering businesses with a single platform that optimizes their client lists and serves as a powerful centralized solution to build full client engagement and experiences" - Thryv CEO and President Joe Walsh
LOS ANGELES (PRWEB) September 23, 2020
MarTech Breakthrough, a leading market intelligence organization that recognizes the top companies, technologies and products in the global marketing, sales and advertising technology industry, today announced that Thryv, Inc., the provider of Thryv® business software, has been selected as the winner of the "Best SMB CRM Solution" award in the third annual MarTech Breakthrough Awards program.
Thryv helps business owners streamline and enhance how they engage with their customers and manage their business. Thryv has taken the concept of Customer Relationship Management (CRM) and transformed it into Customer Experience Management (CXM). By developing a robust and integrated CXM, everything works through Thryv, giving SBOs that one clean and lean database that can be customized and integrated with the rest of their Thryv account. With an end-to-end client experience platform, Thryv frees them from time-consuming paper trails and analogue processes while transforming into the modern businesses today's digitally savvy consumers demand.
Thryv's easy-to-use software solutions allow business owners to reach more customers while staying organized, remaining competitive and getting paid faster. The fully integrated, continuously evolving platform includes: up-to-date and accurate online listings management that helps consumers find the businesses, active social presence, easy communication, convenient invoicing, and automated marketing that engages with current and future customers.
"As a champion of small businesses across America, Thryv is committed to empowering businesses with a single platform that optimizes their client lists and serves as a powerful centralized solution to build full client engagement and experiences," said Thryv CEO and President Joe Walsh. "When business owners can centralize their data and then automate tasks, they are more fully able to put their customers at the center of their business. This 2020 MarTech Breakthrough Award is a strong testament to the success of the Thryv platform."
The mission of the MarTech Breakthrough Awards is to honor excellence and recognize the innovation, hard work and success in a range of marketing, sales and advertising technology related categories, including marketing automation, market research and customer experience, AdTech, SalesTech, marketing analytics, content and social marketing, mobile marketing and many more. This year's program attracted more than 2,750 nominations from over 15 different countries throughout the world.
"Managing customers, contact lists, and nurturing leads are primary pain points for small business owners, and there are a myriad of tools that they are juggling to try to manage all of these processes," said James Johnson, Managing Director at MarTech Breakthrough. "Thryv is delivering a breakthrough solution for SMBs that alleviates these pain points, helping them truly thrive in their business. We're thrilled to be able to recognize the Company with our 'Best CRM Solution for SMBs' award for 2020."
Thryv's CRM provides customizable tags that allow business owners to find, filter, track and communicate with the right customer at the right time with the right message. Additionally, the online Client Portal allows clients to log-in, schedule appointments and share documents, giving them an even deeper personalized experience. Thryv customers also receive unlimited, free training and 24/7 support with local business specialists.
####
About MarTech Breakthrough
Part of Tech Breakthrough, a leading market intelligence and recognition platform for global technology innovation and leadership, the MarTech Breakthrough Awards program is devoted to honoring excellence in marketing, ad and sales technology companies, products and people. The MarTech Breakthrough Awards provide a platform for public recognition around the achievements of breakthrough marketing technology companies and products in categories including marketing automation, AdTech, SalesTech, marketing analytics, CRM, content and social marketing, website, SEM, mobile marketing and more. For more information, visit MarTechBreakthrough.com.
About Thryv
Thryv, Inc. builds and owns the easy-to-use Thryv® end-to-end client experience software that helps over 40,000 SaaS clients with the daily demands of running a business; and allows them to take control and be more successful. Thryv's award-winning platform provides modernized business functions, allowing small businesses to reach more customers, stay organized, get paid faster and generate reviews. These include building a digital customer list, communicating with customers via email and text, updating business listings across the internet, accepting appointments, sending notifications and reminders, managing ratings and reviews, generating estimates and invoices, processing payments, and issuing invoices and coupons.