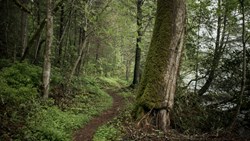 We think this race will be as beautiful and inspiring as any of the western 100-milers.
Chattanooga, TN (PRWEB) October 31, 2013
After much deliberation, Rock/Creek and Wild Trails announce today that a date has been chosen for the 2014 Rock/Creek Thunder Rock 100. This 100-mile trail running foot race will take place on May 16-17, 2014, with the start taking place at noon on Friday, May 16.
After considering a number of factors including hunting season, weather, concurrent events and runner feedback, May 16 (and 17, of course) was selected as the best option. This date also necessitates the popular Scenic City Trail Marathon & 1/2 Marathon be moved to April 26, 2014.
The noon start ensures that runners will traverse the most technical portions of the course during daylight hours, allows for all racers to start fresh after a good night's sleep, and means even the fastest participants will share the experience of running all night and watching the sun rise on the trail.
The Thunder Rock 100 is a point-to-point, 100-mile trail race run entirely within the confines of the Cherokee National Forest in Tennessee. This is a challenging 100-miler, featuring over 16,000 feet of climbing and some incredibly scenic terrain.
The running community's response to the original race announcement has been overwhelming, with nearly 10,000 people having viewed the race preview video. As race director Randy Whorton said, "We think this race will be as beautiful and inspiring as any of the western 100-milers"
Starting at the Ocoee Whitewater Center, the course winds its way northward from the Ocoee River, across the Hiwassee and throughout the northern reaches of the Cherokee's Ocoee District before returning to finish at Parksville Lake.
Along the way, runners can expect to see beautiful sections of the Benton MacKaye Trail and John Muir Trail, run past Coker Falls and Bullet Creek Falls, run up and over Starr Mountain and Oswald Dome… plus an exciting ford of the Hiwassee River itself.
Complete course details and map will be released when permits are finalized. Race registration will open on UltraSignup in the very near future. Interested racers are encouraged to sign up for email notifications at:
http://app.bronto.com/public/webform/render_form/aqcfza2b8mp1okgl5xyrgnalneoct/77f8a7f9687d1532c402d5f6ad5d7012/addcontact
A video preview of the race course, from our planning run in spring 2013, is available here:
The Thunder Rock 100 will be part of the Salomon Rock/Creek Trail Series, bringing the total for the 2014 series to 10 trail races, but will not count toward series points standings. As with all races under the Salomon and Rock/Creek banner in Chattanooga, proceeds will support Wild Trails, a 501(c)(3) nonprofit dedicated to the use, maintenance, and expansion of trails for all user groups.
Series sponsors include Rock/Creek, Salomon, Collier Construction, Get Out Chattanooga, Toyota of Cleveland & Capitol Toyota, Patagonia, Smartwool, The North Face, Marmot, Hammer Nutrition, Suunto, Trail Runner Magazine, High Point Climbing & Fitness and Whole Foods Chattanooga.
About Rock/Creek & Wild Trails
Founded in 1987, Rock/Creek is one of the original specialty outdoor retailers to sell online. The retailer has been awarded SNEWS and Backpacker Magazine's "Best Online Retailer" award as well as the Grassroots Outdoor Alliance's "Retailer of the Year" award in 2011 and 2013. STELLA Service rates Rock/Creek as one of very few "Elite" level retailers.
Company management created Wild Trails with local community members in order to provide resources, education and events to help expand and protect trails in the greater Chattanooga area. Twice a year, Wild Trails donates up to five grants of up to $2,000 each for worthy direct-action trail projects.
Known for high-quality trail running events, the groups organize the Salomon Rock/Creek Trail Series as well as the Triple Crown of Bouldering. The company also has developed an outdoor activity finder called RootsRated at http://rootsrated.com along with other top retailers. Both organizations are on Twitter @RockCreek and @WTrails.