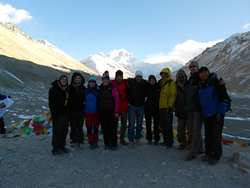 Join Tibet Travel Org CITS to visit the last pure land on earth.
Tibet (PRWEB) May 21, 2014
Recently, Tibet Travel Org CITS, one of the best Lhasa-based tour operators, launched a new tour program covering Tibet and Nepal, two hot tourist destinations respectively on the south and the north sides of the Himalayas.
Located on the world's highest and largest plateau, Tibet boasts rich culture and unique landscape. With an average elevation exceeding 4,500 meters, it is called "the Roof of the World" or sometimes "the Third Pole". It offers fabulous monastery sights, breathtaking high-altitude treks, stunning views of the world's highest mountains and one of the most likeable peoples one will ever meet. It is also a spiritual place for people to escape from busy life in cities. It is without doubt one of the most remarkable places to visit in Asia and a must-visit place en route from mainland China to Nepal or India.
Wedged between the high wall of the Himalayas and the steamy jungles of the Indian plains, Nepal is known as a UNESCO world heritage center with ten listed sites. This country promises a thrilling experience for adventurers, too. Canyoning, kayaking, rock climbing, paragliding and mountain biking each offers an experience of a lifetime. No wonder, it is one of the most craved tourist destinations in the world.
The best route to visit these two places is from Lhasa to Kathmandu. Driving or cycling along the trans-Himalayan Sino-Nepal Friendship Highway, travelers will experience the world's longest and steepest descent – a non-stop downhill that begins on Tibetan Plateau and winds 150 kilometers down to the fertile rice fields of Nepal (an unbelievable 4,600m descent). On the way, they will enjoy fabulous scenery of turquoise lakes, vast grasslands, deep valleys, grand glaciers, magnificent snow-capped mountains, especially Mt. Everest, the highest peak on the earth.
The tour to Tibet and Nepal is actually a multiple cultural corridor, along which travelers can experience Tibetan, Nepali and Indian cultures and visit many UNESCO world heritage sites, like Potala, the world's highest ancient palace, Jokhang Temple, the sacred center of Lhasa, Norbulingka, Dalai Lama's summer palace, Patan and Bhaktapur, the Durbar Squares of Kathmandu, Swayambunath and Boudanath, the two most important Buddhist Stupas, and Pashupatinath Temple and Changu Narayan, the two famous Hindu shrines.
"It only takes a week to finish a trip from Lhasa to Kathmandu, with a detour to Everest Base Camp," said Mr. Tony Yin, a senior travel consultant of Tibet Travel Org CITS. "If you join in our 7-day group tour, you can share expenses with others. The cost can then be as low as USD 920."
"The best time to do this tour is April to May and September to December. During these periods, you will get an amazing view of the Himalayas," Tony said. "Nagarkot is the best place to shoot beautiful sunset and sunrise over the range."
About Tibet Travel Org CITS
Tibet Travel Org CITS (http://www.tibettravel.org), the top online Tibet tour operator, annually sends more than 1,000 individual travelers and over 100 tour groups to Tibet. It helps travelers to obtain the Tibet Travel Permit, book air/train tickets to Tibet and customize their tours. The company also keeps updating latest information about Tibet on Facebook (tibettravel.org) and twitter (@TibettravelOrg).